BT Vision, the next-generation television service from BT, is finally unveiling its long-awaited hybrid broadcast and broadband proposition, just in time for Christmas. It is the latest launch of an entertainment service by a telephone company but it will face competition in an increasingly dynamic television market in the United Kingdom.

"Digital television is big business for us," Dan Marks, the chief executive of BT Vision told the BBC. "Our customers have told us what they want, which is television delivered into their living room, on demand, with no mandatory monthly subscription commitment, so that's what we're giving them."
Initially available only to BT broadband subscribers, the telly-phone service will offer access to Freeview digital terrestrial television channels through an aerial as well video-on-demand services through the telephone line.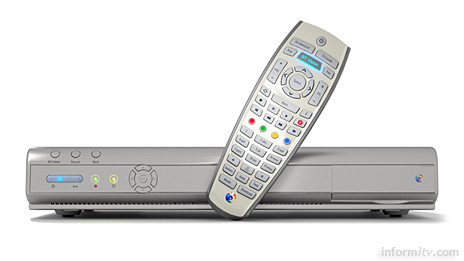 BT is providing the 'V-box', including a twin-tuner digital video recorder–worth£199–to its new and existing broadband subscribers. There will be an installation fee of £60 and a connection charge of £30. There is no monthly subscription fee for the video service, although customers will still have to pay BT a monthly bill for both broadband and telephone line rental.
The user interface is based on a Microsoft platform which has been adopted by a number of leading telecommunications companies, including Deutsche Telekom, which has already launched services in Germany and France.
The BT service is less ambitious than that of its German counterpart, which delivers live television, including high-definition channels, over very high-speed broadband connections being rolled out in ten major cities.
BT Vision will instead rely on existing digital television channels broadcast over the air, which are still only available to three-quarters of homes in the country. The main reason is that the BT network is currently incapable of carrying the multicast services necessary for live channels. However, the company is investing billions in building a next-generation network that will enable such services in the future, including high-definition video.
The long-anticipated launch of BT Vision is the culmination of an ambition that can be traced back to early experiments in interactive television undertaken by the telephone company in the mid-nineties.
In many ways, the thinking seems to have stopped there, with telcos now intent on recreating a form of walled-garden cable television that is already being rendered obsolescent by the broader world of broadband.
Since then, a number of operators around the world have launched internet protocol television services over their broadband networks. There are around four million users of such services worldwide at the moment, but analysts forecast that number could rise to over 40 million by the end of the decade.
Dan Marks, who now heads BT Vision, was previously head of programming at Video Networks, an early pioneer with its HomeChoice service in London, which has only managed to sign up around 50,000 subscribers. The company was recently acquired by broadband provider Tiscali, which could extend the service nationwide.
Meanwhile, satellite broadcaster Sky acquired Easynet, another broadband service provider and is now offering broadband data access, although it has yet to reveal any plans to deliver full television channels over broadband.
Sky already offers movies and selected programmes for as online downloads. Channel Four will also make the majority of its programmes available for download and through video-on-demand in cable homes. The BBC originally announced plans to put its programmes online, but is still awaiting approval to launch their service. Assuming that approval is granted, it is expected that all the main terrestrial channels will offer programmes for download.
BT Vision, combining video-on-demand over broadband with broadcast Freeview channels and a digital video recorder, could be a compelling proposition if it can be successfully marketed to the consumer.
BT aims to have two to three million BT Vision customers in the medium term.
The initial plans for the platform were relatively modest, with executives stressing that "BT is not a content company". Since then, BT has been busy doing deals with major movie studios and programming providers for its video-on-demand service.
It is still far from clear how far this will provide significant income for the telephone company, based on the experience of cable television operators. Experience suggests that most homes only buy one or two movies a month from video-on-demand services where they are available.
This will do little to raise the average revenue per user, after the considerable costs of providing the service have been taken into account. For BT, providing premium programming is mainly a defensive strategy, using entertainment services to try and keep customers from defecting to other broadband providers.
'Catch-up' television may well be popular, but whether users will be prepared to pay for such programmes and how much they will actually end up paying are equally uncertain. The programming available will also initially be limited and will not be exclusive to BT Vision.
BT has bought the 'near-live' rights to over two hundred Premiership football matches in conjunction with Sky, allowing users to watch games from 10pm on match days from next year. With Sky still dominating the rights to live football coverage, the demand for replays may be diminished.
The BT broadband video service has been a long time in development. BT elected to employ the Microsoft IPTV Edition platform, which has still to be seen deployed at significant scale, although it has been adopted by many top-tier telcos.
These initial deployments will be eagerly watched–at least by analysts–as an important test of the credibility of the platform and the prospects for telco television services.
Dan Marks, the chief executive of BT Vision, will be the keynote speaker at the IPTV Explained conference organized by Broadcast magazine supported by informitv.