A new digital television recorder from Netgem will also function as a home network media centre and download station and it has a high-definition output. It is called the iplayer, which happens to be the name used by the BBC for its proposed digital download service.
The hybrid box combines a digital terrestrial television receiver with 80GB of storage and the ability to stream and download programmes from networked devices or over a broadband connection. A USB port also allows direct connection of additional external storage.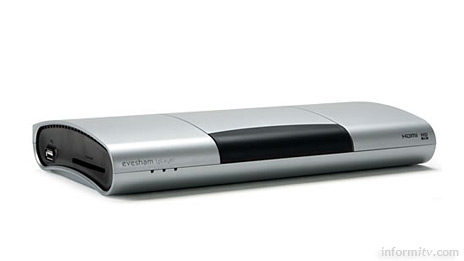 The terrestrial receiver supports Freeview free-to-air as well as subscription and pay-per-view services and it has support for digital text and interactive applications.
The device is designed to be integrated into a home network to provide access to stored media, podcasts or slideshows. It can display standard definition video streams in MPEG-1, MPEG-2, MPEG-4 and Windows Media Video 9 formats. It has a built-in upscaler to provide an HDMI high-definition digital output.
Retailing at just under £300, the iPlayer is expensive for a set-top box, but competitive compared to other media extenders or home media centres. It will apparently be available from computer company Evesham in time for Christmas. French manufacturer Netgem currently provides a similar device in France.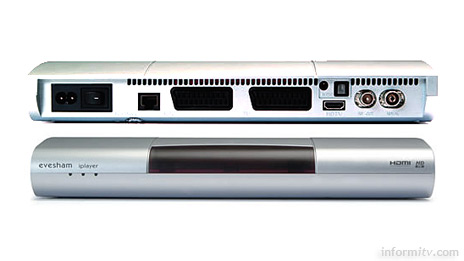 The iplayer will compete directly with subsidised boxes from BT Vision but can be used with any broadband service provider.
It claims to be catch-up television ready, allowing users to watch previously aired programmes without the need for recording, suggesting that they will be streamed over broadband.
Regular readers will recall that at MIPTV in April, Red Bee Media, formerly BBC Broadcast and now a separate commercial company, announced that it was planning to offer a service in conjunction with Netgem that would enable broadband providers to offer an integrated live television and video-on-demand service.
Red Bee is also involved in supporting the BBC iPlayer project, formerly known as iMP. This is a proposed service that will use a software application limited to a Microsoft Windows personal computer. It is currently awaiting the approval through a market impact analysis from Ofcom and a public value test from the BBC board of governors, soon to become the BBC Trust.
In June, the BBC applied for a trade mark for iPlayer in relevant classes, although it appears that Netgem was already using iplayer as a product name. Ironically, it had previously provided a product of this name under the BT brand in the United Kingdom. The BT iPlayer+ is still available from the BT online shop.
It begs the question why the publicly funded broadcaster should use the same name for its proposed service and apparently provide promotional support for a commercial product.
A service that is only available on personal computers is clearly less compelling than one which can be used directly with a television display. It also means that the BBC is not tied to a single operator, such as BT, or cable company NTL Telewest, soon to be branded Virgin, to deliver catch-up programme services to televisions.
It will also be interesting to see whether other broadcasters, which will have their own catch-up television services, will make their programmes available through such a platform.
The last few feet, between the telephone network and the television display, are being bridged by a new category of consumer electronics devices that are enabling the convergence of broadband and broadcast distribution, irrespective of plans by broadband providers to operate their own entertainment services.
Apple has pre-announced its own product, currently called iTV, which could become the television equivalent of the iPod.
The market is destined to become increasingly competitive as major consumer electronics manufacturers contest the converging home entertainment sector.