Think of it as Freeview over broadband. Freewire TV is a new service from Inuk Networks in the United Kingdom that will deliver broadcast quality television channels over multicast broadband networks, offering multichannel choice to the 'digitally disenfranchised' who are currently unable to receive digital television services by other means.
Freewire TV will initially be available to up to half a million students in halls of residence who will be able to access the service through their campus network. It could be available more widely in the future.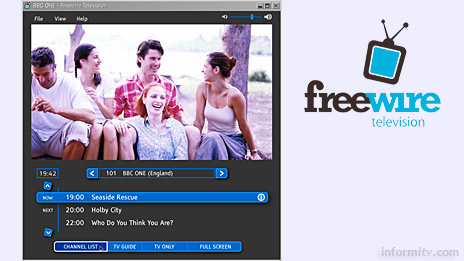 The Freewire internet protocol television service can be delivered over any multicast enabled network. This provides a highly efficient means to deliver live television channels over a broadband data network.
The core BT infrastructure, which provides the vast majority of domestic broadband connections in the country, is not yet multicast enabled, although it will become so with the eventual implementation of their twenty-first century next generation network.
BT, which is due to launch its BT Vision broadband video service later in the month, is currently unable to offer multicast channels over its network and will instead rely on a hybrid solution in conjunction with broadcast Freeview channels.
Digital terrestrial television is still unavailable to a quarter of the country and even in areas where there is adequate coverage it may be inaccessible to some viewers, for instance those in some apartment blocks and notably university halls of residence, many of which now have broadband local area networks.
The UK academic network, known as JANET, already supports multicast, as do those of a number of broadband service providers that operate their own networks through local loop unbundling.
Freewire TV gives universities and other institutions the facility to offer their resident students access to multichannel television without having to install any additional capital equipment.
The channels are transcoded into 2.5Mbps MPEG-4 H.264 multicast signals under licence from broadcasters. Most of the Freeview channels are available, with plans to provide additional premium channels in the future.
The multicast streams are decoded and displayed by a downloadable Windows player application that offers very similar facilities to a Freeview set-top box. A Mac version and a compatible set-top box are in development.
"The student market is the prime example of a sector that has been disenfranchised from digital TV," said Marcus Liassides, the founder of Inuk Networks. "Freewire TV presents universities and other institutions with a highly compelling and long-overdue solution for the provision of high quality broadcast television."
The University of Leeds is one of the first in the country to implement the service. "Having seen Freewire TV running over the JANET network, we believe this service offers our students the best combination of quality and choice," commented Simon Mulholland, the project manager responsible for the implementation at the university.
The system is also suitable for other markets, such as hospitals, prisons and military bases, or large businesses, and it will be offered on a branded or white label basis to other broadband service providers.
Marcus Liassides first came to informitv with the idea a couple of years ago, when he teamed up with some of the pioneers of the internet infrastructure of the BBC who were experimenting with multicast delivery.
Since then they have been quietly working in the background to put together an impressive technical solution, beating many other providers to the punch and confirming our view that multicast channels will become commonplace over broadband networks in the future.
Freewire is a registered trade mark of Inuk Networks, which is positioning itself as a supplier of triple-play services to consumers, service providers and network operators.
Inuk networks is backed by Wesley Clover, the private venture capital firm of Sir Terry Matthews, a Welsh billionaire who has backed a number of successful high technology startups and now lives in Canada.
Although it conveniently connotes internet in the UK, Inuk — pronounced 'in-yook' — is the singular of Inuit, the name of the native people the Canadian Arctic.