Microsoft has revealed its Zune digital media player and online service, priced to compete directly with the Apple iPod. It has initially met with a mixed reception, but given the dominance of Microsoft in the computer market it could succeed, not least at the expense of some of its partners.
The Microsoft Zune digital media player will be available in the United States for just under $250 from mid-November.
It comes in three colours: white, black and brown, presumably in the hope that brown is the new black.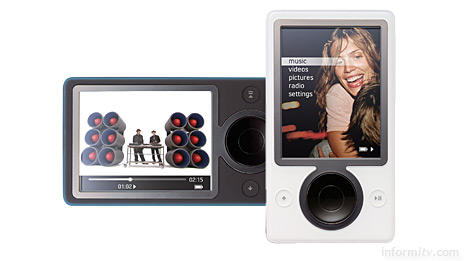 The Zune device has a three-inch 320×240 pixel video screen that automatically works in portrait or landscape mode, making it superior to current iPods for viewing video. The user interface is more like a miniature media centre.
It also comes with a built-in FM tuner and the ability to transmit wirelessly to other Zune players. A separate FM transmitter will also be available to allow listening through a car radio in those territories where this is permitted.
A further add-on will allow connection to an external display and speakers and provides a wireless remote control.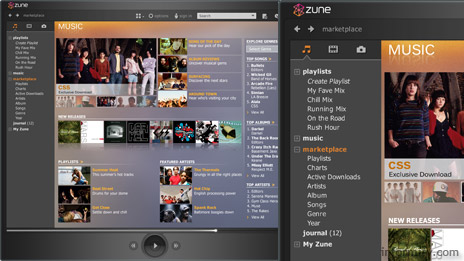 The Zune Marketplace online music site will offer a subscription service providing access to millions of tracks for $14.99 a month, and individual songs can be purchased using pre-paid Microsoft points.
A sharing feature will be available, allowing recipients to play selected full-length sample tracks for up to three times in three days, but not forward them on to others, and to flag selected songs to be bought next time the devices is connected.
The 30GB device can store up to 7,500 songs, 25,000 low-resolution pictures, or 100 hours of video at 500KBps.
The Zune software can import unprotected WMA, MP3, and AAC audio files and videos in WMV, MPEG-4 and H.264 format.
However, Microsoft will be using a different digital rights management system to that previously promoted its partners as PlaysForSure. It means that files purchased with that designation will not necessarily play on the Zune, and secure Zune files will not work on third-party devices.
In so doing, Microsoft is following the closed end-to-end environment adopted by Apple, and risks alienating partners that have competed with Apple iTunes with their own services based on the PlaysForSure ecosystem.
Its success will depend partly on whether it can reproduce the simplicity, elegance and coolness that has characterized the Apple iPod, which are not features typically associated with Microsoft.
Apple may have sold around 30 million iPods, but Microsoft has a potentially much bigger market based on its dominance in computer operating systems. It will be supported by Windows, Xbox, and a range of online services.
Microsoft also appears to have learnt from the rise of social networks, building in features like personalization and peer-to-peer wireless file sharing.
It would be a mistake to view Zune simply in terms of music. It is a portable media player that has the potential to redefine the market.