Microsoft is preparing a video sharing site to rival similar services from YouTube, Google, Yahoo and others. Reports from those that have seen an early version suggest that although well-executed it is at the moment a me-too proposition, but it fits into a wider picture for Microsoft.
Currently available as an invitation-only beta test on the MSN web site, the Microsoft Soapbox service will be positioned as a competitor to the likes of YouTube.
The user interface is clean and allows users to view, search, tag and comment on videos, and to upload their own material in all major video formats, with a current limit of 100Mb per clip. Users can navigate around the site without interrupting the video they are watching.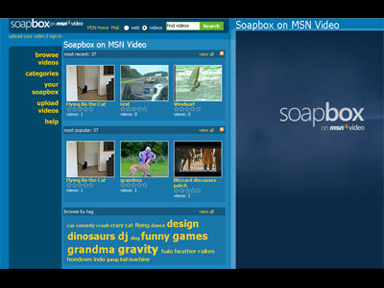 Significantly, while it employs Windows Media to display video in Microsoft Explorer, it currently uses Flash for Firefox and on Apple Macintosh OS X. This means that all major user-contributed video sites use Flash as a video format.
The current offering is underwhelming, but these are still early days, and Microsoft has more extensive plans to develop its MSN and Windows Live services and may be able to provide a broader platform upon which to build its user base and ultimately revenues.
Microsoft says Soapbox will be "deeply integrated" throughout its portfolio of online services.
"Soapbox delivers on a critical component of the MSN growth strategy of deepening audience engagement by enabling people to participate in the content experience," said Rob Bennett, general manager of entertainment and video services for MSN. "By adding a user-uploaded video service, we are rounding out our existing investments in commercially produced and original content on MSN Video."
Overall, MSN attracts more than 465 million unique users worldwide per month, with local versions available in 42 markets and 21 languages.
www.microsoft.com
soapbox.msn.com