CBS has become the latest television network to launch a free, advertiser-supported broadband channel. Called innertube, it is launching with a line-up of original series produced specifically for the web, as well as companion shows to popular CBS brands.
Innertube can be accessed from the home page of CBS.com and provides streaming video in either Windows Media or Real Media format at a resolution of 320×240 pixels. Innertube will initially stream three shows daily, with a new programme posted on the channel each weekday. Examples include Greek to Chic, a college-based makeover reality series, and Beyond Survivor, a behind-the-scenes look at the reality show.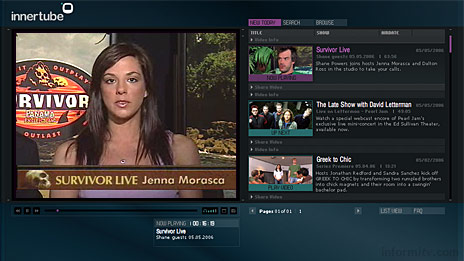 Several original series are scheduled to debut on CBS innertube during the summer, most of which will be in the reality show genre.
CBS says that in the coming months, innertube will also become a distribution outlet for streaming encore episodes from the CBS prime time line-up and for webcasts of content from their library of 2,600 titles and 100,000 hours of television programming.
"Our company possesses some of the world's finest entertainment programming assets and brands, and we will continue on a strategic course to find as many distribution channels and new revenue streams for them as possible," said Leslie Moonves, the president and chief executive of CBS Corporation. "With this broadband channel, we've essentially by-passed cable and created a general entertainment outlet utilizing existing creative and content resources."
"Innertube represents CBS Corporation's latest effort to capitalize on advertising, programming and promotional opportunities within the emerging digital world," said Larry Kramer, the president of CBS Digital Media. "CBS is at the forefront of extending our programming brands to new audiences, delivering new forms of exciting content to the consumer and creating new platforms for advertisers."
"This online channel presents exciting creative possibilities and great business opportunities for CBS," said Nancy Tellem, president of the CBS Paramount Network Television Entertainment Group. "Creatively, we want this platform to be a content playground where new talent and ideas are discovered, and proven talent can bring their passion projects–whether complementary or different to what's on the Network. And, on the business side, the innertube programming that is connected to the Network will help create more touch points for audiences with CBS programming brands and more opportunities for advertisers to engage with our shows."
The CBS initiative comes after an announcement by the Walt Disney-owned ABC network that it will offer its top shows for free viewing online after they have aired on the television network.