Channel 4 in the UK is making full episodes of the hit television series Lost and Desperate Housewives available for viewing online, and on demand in high-definition on cable television.
This landmark deal is the first in Europe from Buena Vista International Television, the international distribution arm of The Walt Disney Company, for the video-on-demand rights to its network series. It is in line with the new focus from Disney on the application of technology to enhance its content and expand its distribution.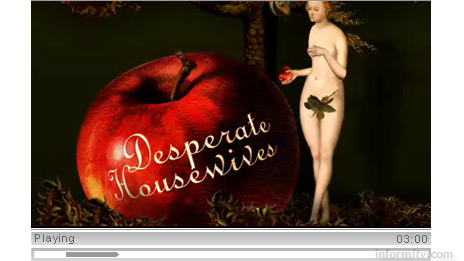 The first two episodes of the second season of Desperate Housewives are being made available online in Flash Video format for no charge. Other episodes will be available for download up to 14 days after broadcast for 99 pence per episode, with payment by credit card. Programmes will be available to view in Windows Media format on a single computer for a twenty-four hour period.
Episodes of Lost and Desparate Housewives will also be available in high-definition through the video-on-demand service on NTL Telewest cable television.
It follows an earlier decision by Disney to make the shows available to American users for free on its own web site the day after broadcast, supported by advertising, as part of a two-month trial.
Channel 4 plans to provide more programmes through video-on-demand services, but is still seeking an agreement with the independent production sector in the UK.
"Channel 4 is the most distinctive brand in UK television and we want to protect and enhance this reputation by making our award-winning content available across multiple platforms," said Andy Duncan, the chief executive of Channel Four. "By partnering exclusively on the VOD rights to two of the biggest shows on TV, we will work together to reach and grow on-demand audiences." He said that the deal reinforces the plans of Channel Four to make programmes available 'anytime, anywhere'.
"This is a significant step in Channel 4's plans to launch a full video-on-demand service across multiple platforms later this year," added Rod Henwood, the new business director of the channel. "Partnering with Disney on these two stand-out shows illustrates the critical strategic importance of VOD to Channel 4."
Philip Snalune, the managing director of consumer products at cable company NTL Telewest, said the two series were fantastic additions to their video-on-demand service, currently used by nearly two million customers, delivering more than five million streams a month.