Satellite television operator BSkyB is using a new interactive television feature to allow Sky subscribers to set a programme reminder by pressing the green button on their remote control during certain programme promotions.
Sky viewers will be able to add a programme title to their personal planner simply by pressing the green button when a 'set reminder' prompt appears. Those with a Sky+ personal video recorder can then set a recording by pressing the record button on their remote.
The facility has been enabled by a recent software update that has now been rolled out to the population of Sky set-top boxes. Sky is using the feature in the promotion of certain programmes, including the new series of 24 on Sky One.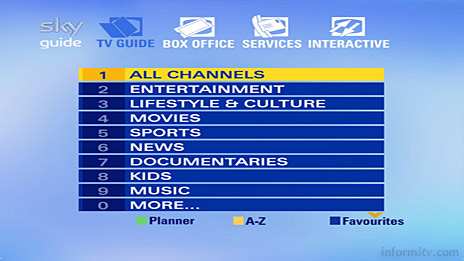 In the UK, the red button on the remote control has become synonymous with interactive television. Sky reserves the remaining colour buttons for other uses.
The green button is now associated with the programme planner, with the blue button linked to favourite channels.
The new guide also provides an expanded list of programme categories, resulting in some channels changing their number from the end of February. Radio channels will be assigned a four-digit number beginning with 0 to accommodate the increased demand for digital radio services on the satellite platform.
Industry insiders have been anticipating the ability to record a programme directly from a trailer or promo since Sky first launched its personal video recorder, but many leading broadcasters will still need to upgrade their playout automation systems to take advantage of the feature.
The system is essentially similar to the red button 'triggers' that broadcasters have used to launch interactive applications. In this case a similar prompt is used to pass a programme identifier to the programme planner.
Although a second step is required to allow Sky+ users to set a recording, the method maintains a consistent experience for all Sky set-top boxes and provides confirmation of the programme to be recorded, and the opportunity to set a series link.
This provides a genuinely useful application of interactive television technology that enhances the overall user experience. It demonstrates the need to see interactive services as part of the overall infrastructure of delivering television. Such a feature can benefit any programme, not only those that have been specifically enhanced.