MovieBeam, now backed by Disney, Cisco and Intel through $48.5 million in new funding, has re-launched a standalone movies-on-demand service in major metropolitan markets covering nearly half the households in the United States.
The MovieBeam box comes pre-loaded with 100 movies from most major Hollywood studios, with up to 10 new titles delivered digitally over-the-air every week, with around ten per cent in high-definition.
Disney, Miramax and Touchstone titles will be available on the day of release on DVD, with other movies available in the video-on-demand or pay-per-view window that typically follows by 30-45 days.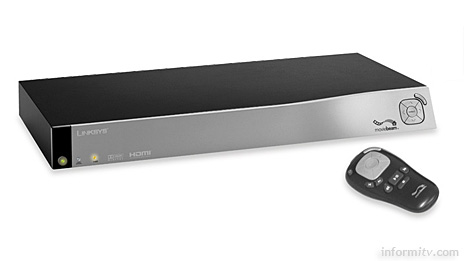 MovieBeam uses a datacasting system to deliver movies using digital television broadcast signals to a small indoor antenna connected to a set-top box player for subsequent playback.
Through an agreement with National Datacast and its nationwide network of PBS stations, MovieBeam can deliver hundreds of digital movie files to millions of homes across the country.
The player has a 160GB hard drive and also features a network and USB ports, which will enable broadband connectivity later this year, giving MovieBeam the ability to provide additional features.
The player is co-branded with Linksys, a division of Cisco Systems, as part of the Cisco investment in MovieBeam.
The system will be sold retail at an introductory price of $199.99 and service is available on a pay-as-you go model, with no subscription after a one-time activation fee of $29.99. New release titles will be available for $3.99, with library titles at $1.99 and a $1.00 premium for high-definition movies.
"We have built MovieBeam to directly address what's most important to our target customers: convenience, quality and choice," said Tres Izzard, president and chief executive of MovieBeam. "Our target customers are movie lovers who want a more convenient way to rent the movies they want to watch when they want to watch them and value the overall quality of the experience."
In the $10 billion movie-rental industry in the United States, 30 million households rent four or more movies per month, 80 percent of them new releases.
"As the lines between computing and consumer electronics devices continue to blur, it is imperative that high-quality premium content be readily available and accessible," said Paul Otellini, the president and chief executive of Intel. "Such new services as MovieBeam are helping to deliver on this vision by providing consumers with greater choice and control over how they enjoy digital entertainment."
"There is a transition happening in the home entertainment market as consumers are moving toward platforms that provide on-demand access to content," echoed John Chambers, president and chief executive of Cisco Systems. "The convergence of traditional consumer electronics products with home networking technologies allows for the creation and deployment of new entertainment services that will give consumers greater control and a richer user experience."
MovieBeam was incubated within The Walt Disney Company for nearly four years and deployed and tested in three cities for more than a year, beginning in September 2003.
"Consumers have come to expect entertainment content when, where and how they want it, and with its increased reach, enhanced technology and support from investors like Cisco and Intel, MovieBeam will create that convenience," said Bob Iger, president and chief executive of The Walt Disney Company.