The BBC is beginning a public trial of its broadband download service, known as iMP, with a limited group of 5,000 users.
Over 30,000 users registered to try out the new service. The test group of 5,000 has been selected as a representative sample of the UK.
They will be able to search across BBC television and radio channels to select individual programmes to download, or in some cases bookmark an entire series.
The iMP, which apparently stands for integrated media player, is based on the RadioPlayer, which the BBC says "lets viewers (sic) listen again to a selection of the BBC's radio programmes for up to seven days after broadcast."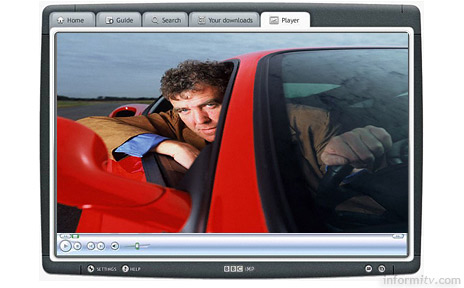 The caption for the supplied picture describes it as "a handheld media device" and helpfully points out "hardware not included".
It is actually a PC-based application that allows users to download television and radio programmes through a peer-to-peer distribution system, based on software from Kontiki.
Around 300 hours of programming a week will be made available through the trial service. Users will also be able to transfer programmes for viewing on compatible portable media players.
Internet addresses will be used to attempt to limit distribution within the UK, and Windows Media digital rights management employed to ensure that programmes can only be viewed within seven days after first transmission and to limit onward distribution.
The pilot will be used to assess the demand of particular types of programmes and determine whether iMP has an impact on the commercial market. The results will be used by the BBC Governors in determining its public value before any launch of a full service.
BBC promises jam tomorrow
The BBC Digital Curriculum, a new learning service for five to 16 year olds, will be known as BBC jam.
"We wanted a name reflecting the spirit of the service that was lively and fun," said Liz Cleaver, controller of learning and interactive. "BBC jam tested really well with all audiences."
Delivered over broadband, the new free service will being in January 2006, and continue to roll out until September 2008. It will combine audio, video, animation and games to bring online interactive learning into the home as well as the classroom.