Verizon Communications has unveiled its FiOS TV service to the residents of Keller, in Texas, and is now taking orders, with plans to roll the service across its subscriber footprint in the future.
The broadband video service, delivered over a fibre-optic network direct to the home, aims to compete with existing cable and satellite television services.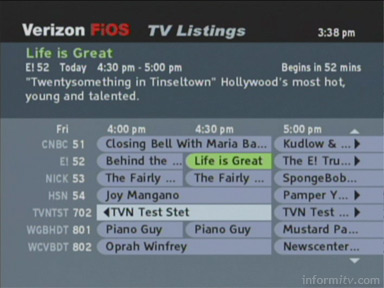 The company first launched its FiOS broadband internet service in Keller last year, and says that around 30 per cent of eligible households have purchased the high-speed internet service.
"Customers who liked what FiOS did for their internet connection will love what it does for their TV," said Bob Ingalls of Verizon. "We've harnessed the speed and capacity of broadband with the power of broadcast to create a revolutionary, new entertainment experience."
"We have a great offer today, but it will get even better as we add programming and interactive services, he added.
The service will have 330 channels at launch, including 20 high-definition channels. There will be 600 video-on-demand titles, with six times as many by the end of the year. The interactive programme guide will integrate television channels with a digital video recorder and video-on-demand service.
Verizon will proceed to roll the service out in several markets in Florida, Virginia and California, where it has already obtained video franchises. By the end of the year its fibre-optic network is expected to reach three million homes.
FiOS TV packages and prices will be the same everywhere, with only the local and community channels varying by market. It is planned to provide programming for various ethnic audiences in every market, and provide an outlet for emerging and independent networks.