The BBC is experimenting with a digital video recorder that can store the entire output of free-to-air television for a week or more.
The project, codenamed Pandora, aims to understand how users might navigate programmes. It is intended to answer questions about what television will look like when viewers have access to thousands of hours of on-demand programming.
A prototype of such a device caused considerable interest when it was shown at the Open Tech conference in London.
It includes 3.2TB of hard drive storage. That is around 20 times the amount of storage in the largest Sky+ recorder. It is sufficient to record entire multiplexes of channels for days on end.
BBC Research & Development has previously demonstrated a proof-of-concept system based on commodity computer hardware, suitable for off-air recording for quality assurance, legal record and archive purposes.
With the falling cost of storage, it is already possible to envisage such systems being available in the home. With six tuners, it is possible to record all six UK digital terrestrial television multiplexes, covering around thirty television channels.
The system demonstrated is being developed by a company called Promise.tv, who promise that it "could well herald a change in the way we watch television". There is no need to program it to record a programme in advance, so there is no reason to miss a programme, providing that it was shown in the previous week.
It is a complementary approach to the seven day peer-to-peer download service due to enter public trials in the autumn. Many programmes may not be available for download for rights reasons, whereas domestic recording for time-shifting purposes is considered to be fair use.
Previous attempts to offer network-based recording of television output have tended to run into copyright problems. Time Warner Cable ran limited trials of a system known as Mystro TV, but was forced to shelve the project in response to concerns from rights holders. That project was headed by Jim Chiddix, who went on to become chief executive of OpenTV.
At the moment, the Pandora box is very much a prototype, and Promise.tv has little more than a holding page web site with the strapline: "Any channel, any time, and that's a promise!"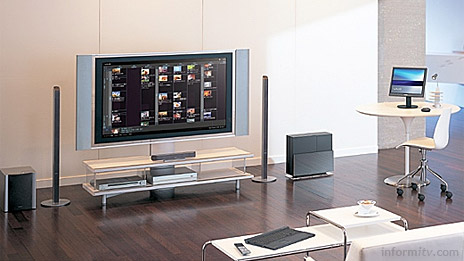 Nevertheless, such systems are not that far from commercial reality. In Japan, Sony has already announced a Vaio Type X home media server with seven tuners and 1TB of storage.