Sky Interactive has previewed its new e-business portal, with the public launch of the SiteControl centre, which will allow anyone to publish an online service on the BSkyB interactive TV platform.
The new service was launched at an event at BAFTA in central London that attracted around five hundred prospective publishers and developers. Such was the demand that the presentations had to be staged in separate morning and afternoon events.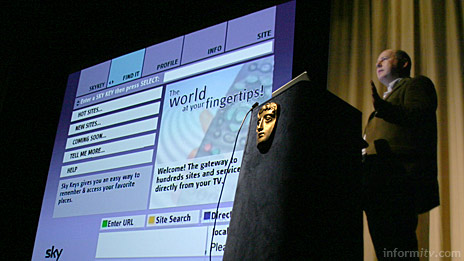 Ian Valentine, technical alliances director with Sky Interactive, introduced the new service and presented a live demonstration of the portal, which is scheduled to launch to the public later in the year.
The portal will allow anyone with a web site to create a special version of their service that can be accessed through the Sky Interactive platform. The system is based on WTVML, an XML markup language derived from the WAP WML standard originally developed for mobile phones. Used as the basis of many interactive services on Sky, it has since been published as an open standard.
Publishers will be able register, test and launch their own services on the portal without charge, through an automated online application known as SiteControl.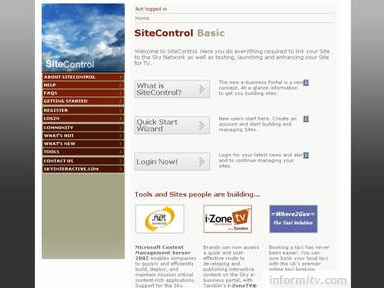 "We believe that this new portal and the facilities available at SiteControl will finally bridge the gap between Internet based content and Digital TV in the home," said Ian Valentine. "This is not 'web on TV'. The industry has matured since these early attempts, and realised that consumers respond to sites that have been adapted to a particular device, and that different devices can then work together to make sites more available to more people at more times."
The new portal will be accessible initially through the interactive menu on a Sky set-top box, although it will not require a subscription. Users will be able to access services either by entering the site address directly, or using the search and directory functions. Users will also be able to bookmark favourite sites. Full transactional facilities will be available, and there are plans to support premium rate services.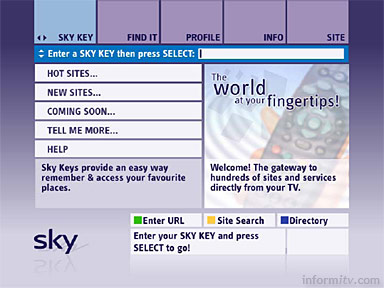 Publishers will also be able to reserve a keyword, called a SkyKey, which will act as a numeric shortcut to the service. Many of those attending queued to reserve keywords at the event, which will cost anything from £2,500 a year for longer words, to £25,000 for shorter codes. Over two hundred organisations pre-registered for a SkyKey on the first day.
A number of partners were introduced that are offering tools and services to support the platform. These include: ArtemisCorp, which is providing a content management system based on a Microsoft solution; Azoth, a Rumanian company that is developing Java based editing and design software; and Tamblin, which is providing publishing tools and templates.
In theory, anyone with access to a web server and the necessary development skills should be able to produce a compatible service based on freely available documentation.
The portal service, which will be accessed through a dial-up connection, typically at the cost of a local call, or even at premium rates, may seem like a step backwards for those with a personal computer and an always-on broadband connection. However, available in over seven million homes across the UK, it could offer a cost-effective means to provide interactive services to a wide user base.
The use of SkyKeys could provide brands with a simple, low cost means to promote a range of interactive services. In the future there is the potential for these to be linked from other interactive applications, including interactive advertisements. It also makes it considerably easier to develop e-government and e-business services on the interactive television platform.
Ultimately, with a broadband connection to the set-top box, as is likely to be available with the high-definition service to be launched next year, the portal service could offer a cost-effective, open standard platform for a wide range of interactive services.
The portal provides a pre-emptive strike against competition from cable companies, and offers an advantage over interactive services on terrestrial television, which currently has no return path. It also enables Sky to argue that it provides an open access platform, based on open standards.
Strategically, it looks like a shrewd move from Sky, which could significantly re-invigorate the interactive television sector, although its success will be dependent upon the degree to which it is adopted by publishers and service providers.