The Weather Channel has announced a new interactive TV weather application, based on open standards, in partnership with Alticast.
The application provides updated weather information as an interactive overlay on the live broadcast.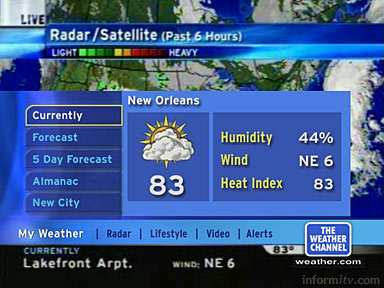 Options available include current conditions, outlook, five-day planner, weekend planner and Doppler radar for the locality and the region, with weather information also available for other selected cities, together with lifestyle features such as allergy information, the UV Index and an Almanac.
The Weather Channel Application is designed for OCAP and MHP open standard platforms and has been successfully integrated with Alticast middleware.
OCAP, the OpenCable Applications Platform, is based on the Multimedia Home Platform and is being adopted by cable television networks in the United States.
"The Weather Channel has long believed in the future of interactive TV," said Chuck Herring, who is responsible for the Weatherscan local weather network which is available in around 7 million households in the United States. "We look forward to having our weather information content demonstrated to potential customers through the deployment planned by Alticast."
The Weather Channel 24-hour network is available in over 88 million households across America.