The BBC has signed a contract to sell BBC Broadcast, its channel management and creative services arm, for £166 million to an investment group led by the Macquarie Bank in Australia.
BBC Broadcast provides promotion, playout and publication services for the BBC and other channels across multiple platforms, from television to mobile phones.
The BBC Broadcast division will transfer over the summer to a new company, Creative Broadcast Services Limited, owned by the Macquarie Capital Alliance Group and Macquarie Bank. The sale is subject to approval by the government Department of Culture, Media & Sport.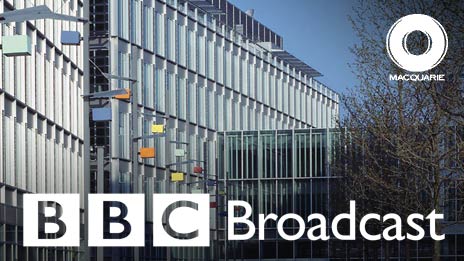 The Macquarie Group is based in Australia and was founded in 1969 as the Australian subsidiary of the Hill Samuel merchant bank. Macquarie Bank currently employs over 6,500 people in 23 countries and has a market capitalisation of £5.4 billion.
The Macquarie Bank Group manages assets of around £36.4 billion around the world, from airports to toll roads. Macquarie Bank owns ten per cent of Macquarie Capital Alliance Group, a listed investment fund, which earlier this year raised a billion Australian dollars, around £420 million, to invest in assets. Other recent investments include retirement homes bought from the Salvation Army.
Last December a separate group led by Macquarie paid £1.27 billion for ntl:Broadcast, now known as Arqiva, which provides broadcast transmission services and owns more than 3,000 transmitter sites across the UK.
The Macquarie Group also owns Broadcast Australia, which has 600 transmitter sites across Australia used by public broadcasters including the ABC and SBS.
The bid from Macquarie beat offers from Apax Partners, Exponent Private Equity and Thomson Technicolor, following a decision by the BBC to sell off the division.
"BBC Broadcast has state-of-the-art facilities and services delivered by very talented people and is in a strong position to take advantage of growing opportunities in Europe as well as developing demand from new communication media," said Michael Cook, the chief executive of Macquarie Capital Alliance Group.
Peter Phillips, who headed the sale team for the BBC, said the sale "represents excellent value for licence fee payers and a secure future for some of the most vital services supporting the BBC's output."
The BBC believes that the sale will provide the business with opportunities for growth which are not available whilst it is a wholly owned subsidiary.
Over 90% of the £109 million received in revenue by BBC Broadcast in the last financial year came from the BBC and related entities. Earnings from the BBC are expected to exceed £500 million over the period to the end of 2015, for which the company has exclusive contracts with the BBC.
Last year the corporation sold BBC Technology to Siemens as part of a ten year contract worth almost £2 billion.