EchoStar has launched an interactive television horse racing channel on its Dish Network satellite service across the United States.
The service is being offered through the TVG Network, a Gemstar-TV Guide subsidiary, which offers live horse racing from leading American race tracks.
The new interactive channel will allow TVG Network viewers to access the latest racing news, race information, odds and results on horse races televised live by TVG, such as the Kentucky Derby. In certain markets where legally available, users will be able to bet on horse races using their remote control.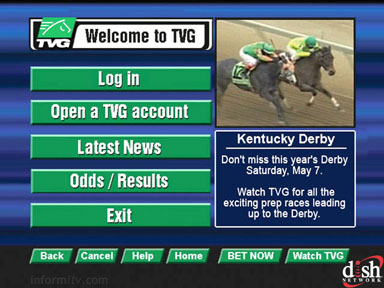 "Dish Network is proud to be the first nationwide provider to bring the exciting experience of interactive TV horse racing and wagering to the living room," said Scott Higgins, director of interactive TV programming for Dish Network. "Customers in many states can enjoy live TVG horse racing and wagering with convenient access to track schedules at their fingertips."
"We are very excited to offer this cutting-edge product and to open new ways for TVG viewers to interact with our premium, live televised horse racing programming," said Ryan O'Hara, president of TVG.
Viewers will be able to place bets on account in 12 states: California, Idaho, Indiana, Kentucky, Louisiana, Maryland, Massachusetts, North Dakota, Ohio, Oregon, Washington and Wyoming.
The service can be accessed through the sports section in the interactive menu or through pop-up messages on the TVG Network.