In a ninety-minute primetime interactive special, BBC One looked at How to Sleep… Better and we are pleased to report that it worked.
It is a brave move to devote the best part of an evening to the science of sleep, perhaps one that only a public service broadcaster would attempt, but this programme was apparently intentionally soporific.
What's more, it managed to attract 6.4 million viewers, or over a quarter of those watching television in the UK at the time.
The special programme was hosted by Professor Lord Robert Winston, the new David Attenborough of life science television, and took a hundred volunteers through a series of tests to try and discover why they might have difficulty sleeping.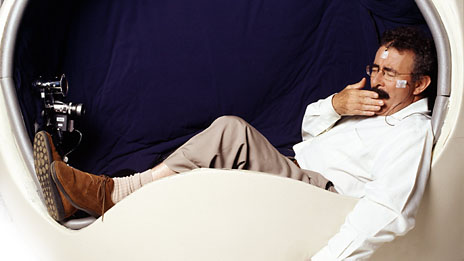 Interactive viewers were able to explore their own sleep profile through a series of multiple choice questions and receive personalised tips to help them sleep more soundly.
The synchronous interactivity was carefully integrated into the design of the programme, using minimal overlays to enhance elegant broadcast graphics. The application made clever use of video stream switching to deliver appropriate recommendations in response. Again, the majority of the design elements were carried in the broadcast stream.
Unlike some earlier examples of multistream applications, which have masked stream changes through a fade to black, the switches were not as seamless as they might have been, and carrying them over a music bed only served to draw attention to the transitions. Satellite viewers may also have been left in limbo at the end of the programme, rather than being returned to the broadcast channel.
What was notable was the confidence with which the interactive elements were introduced into the programme, with clear presenter calls to action and voice-over prompts throughout. Interactivity was not simply an addition to the programme, but was intrinsic to its inception, while it also worked as an analogue broadcast.
With digital viewers now making up the majority of television homes in the UK, particularly with the growth of Freeview digital terrestrial television, enhanced television programmes such as this may become more commonplace and less of a special event. Perhaps that should be keeping television executives awake at night.