The EchoStar Dish Network has launched what is claimed to be the first interactive television shopping channel in the United States.
Viewers with interactive set-top boxes can access an interactive Sharper Image catalogue through the Dish Home channel and purchase selected products from a limited range of items using a credit card by remote control.
As with other Dish Network interactive applications, the service is based on OpenTV software. Dish Network is currently the largest US interactive television provider, with more than 10 million subscribers that have compatible receivers.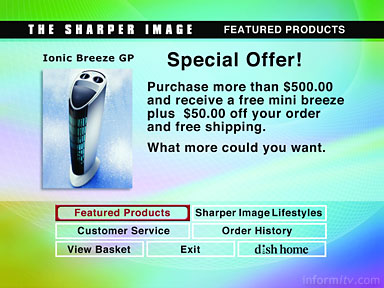 The Sharper Image has 177 retail stores in the US, a monthly catalogue with an annual circulation of over 85 million and an online outlet, all specialising in the sort of lifestyle products you never thought you needed. Now it has added television as a further sales channel.
"We believe this new technology for interactive TV shopping is exciting and completely consistent with our brand image," said Roger Bensinger, who is responsible for marketing at The Sharper Image.
There is nothing new about shopping on television. While television shopping channels abound, interactive catalogue services have so far met with limited success. In the UK, the retail portal Open… was abandoned and the Sky Active service has been re-launched as a televisual magazine. However, QVC has a well-established interactive service that is seamlessly integrated with its broadcast channel, which perhaps demonstrates the true potential of interactive television shopping networks.