Ensequence has teamed up with Press Red to create interactive television advertising campaigns on Sky.
Press Red, a UK interactive TV advertising services company, will use the Ensequence on-Q Create authoring suite to produce interactive advertisements for digital satellite channels.
It is a significant win for Ensequence in the increasingly competitive market for interactive advertising in the UK.
Over the last year Press Red has enabled over 100 UK advertisers to broadcast more than 150 campaigns. The company has developed a tool, known as BlackBox Designer that allows advertising agencies to develop simple interactive campaigns through a web-based interface. The system is also used by Sky and airtime sales house IDS.
Unlike more basic response-driven interactive commercials, the most sophisticated form of interactive commercial is known in the trade as dedicated advertiser location or DAL and can be used to create an interactive brand experience including audio and video.
Many campaigns have been previously produced in-house by Sky Interactive, and Zip Television has notably provided an alternative service using the rival Emuse ModelStream authoring system.
Using Ensequence on-Q Create offers an intuitive drag and drop development environment, together with a scripting language that supports more sophisticated functionality.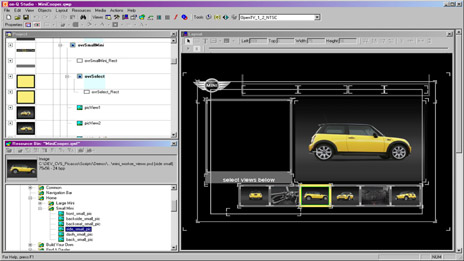 Explaining their selection of Ensequence for development, Chris Moreton, chief executive of Press Red said "on-Q Create is without a doubt the most complete, stable and flexible high-end iTV authoring suite on the market."
"We are impressed with the rich capability of the software to produce advanced interactive behaviours, whilst still allowing us to maintain complete control of the creative process. With on-Q, we can quickly build, package and share interactive concepts with our clients, and give them the confidence that their campaigns will air with stability to the complete set-top box population."
Interactive adverts developed with on-Q Create will begin to air in early 2005.
However, the number of technologies available risks further confusing the advertising industry, with competing systems such as Emuse Modelstream and Chello Mistral also in use.
Unlike conventional television production, which can support different systems for editing and effects, each competing interactive solution has its own distinct playout requirements. As a result, some consolidation in this sector must be expected.