NPTV, a developer of interactive television authoring tools has acquired the assets of Kinomai, a company specialising in video indexing.
NPTV, a French interactive television company based in Paris, has picked up the intellectual property of Kinomai, also based in the capital, which recently went into receivership.
The management of NPTV confirmed to informitv the acquisition of Kinomai but financial terms of the deal have not been disclosed.
Kinomai developed patent pending technologies including frame recognition of video based on previously identified signatures and the segmentation video streams into sequences of scenes and shots.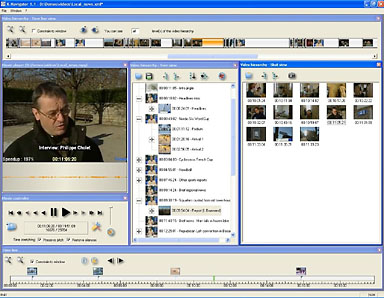 The system was previously identified by BBC Broadcast as an effective solution for a series of applications including synchronising interactive services, video logging and intelligent navigation interfaces, but was never deployed by the broadcaster.
NPTV will now integrate the technology into their ITV Factory tool suite. As part of this solution, NPTV has developed a thin client browser known as 'bando' that allows the deployment of interactive television services across different middlewares, including MediaHighway, OpenTV, MHP and OCAP.
The company also plans to exploit the Kinomai technology in standalone products and licence it to third parties.