Entone has demonstrated a device that it claims will reduce the cost of broadband video service delivery in the home.
The Hydra IP Video Gateway is a multi-television gateway that will support simultaneous decoding and display of up to three separate video streams to up to six televisions over existing residential coaxial cabling.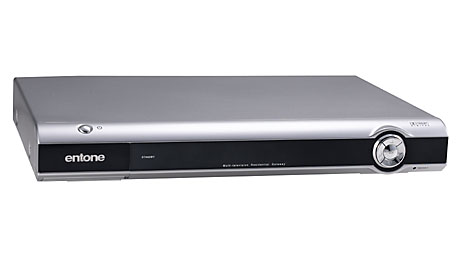 This removes the need for a separate set-top box for each television in the home, significantly reducing the cost of customer equipment and installation by consolidating the electronics in a single box. The home gateway product also provides broadband internet access and can display telephone features such as caller identification and call waiting on screen. A smart card slot is provided for conditional access, with support for multiple streams.
Entone also provides video servers for video on demand and network personal video recording.
Entone has licensed the Espial Escape browser to provide a user interface for electronic programme guides and video on demand services.
"Customers want intuitive television – watching what they want, when they want, and paying only for what they watch – combined with easy navigation," said Steve McKay, chief executive of Entone Technologies.
The Espial Escape browser is specifically designed for the set-top box market, complying with international television standards including MHP, OCAP and ARIB.
"The IPTV Market requires applications that are pre-integrated with middleware and video servers," said Jaison Dolvane, president of Espial. "Espial's market approach of easy integration, standards-compliance and built for TV feature set allows telcos to deploy quickly and with confidence."