Amino Communications, based in Cambridge in the UK, has introduced a compact IPTV set-top box compatible with high definition television and Microsoft's Windows Media 9 WMV9 codec.
By reducing the bandwidth requirements, the option of using the WMV9 codec enables telcos to offer television services to more consumers over existing infrastructure. The box also supports the widely used MPEG-2 standard. Amino is planning to launch an MPEG-4 AVC compatible set-top box early in 2005.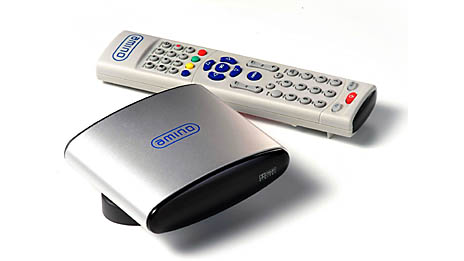 The AmiNET 120 can provide 720 line progressive and 1080 interlaced standards for high definition output.
"High definition content and reduced network bandwidth requirements are driving adoption of IPTV," said chief executive Bob Giddy.
"Innovation at the set-top box has always been a crucial enabling factor in IPTV deployments," said Ivan Verbesselt of Alcatel. "This is now more than ever the case as low bit-rate solutions are becoming a key requirement for many operators."
Interactive
ICTV announced an agreement to partner with Amino, offering its centralised HeadendWare to further extend the capabilities of Amino's AmiNET set-top boxes in conjunction with Myrio's platform. Their integrated solution was on show at the TelcoTV conference in Orlando, Florida.
As the name suggests, HeadendWare uses central processors located at the operator headend to turn standard Windows applications into video streams. The company says that as application size and complexity are not constrained by the characteristics of the set-top or bandwidth, HeadendWare allows content providers to deliver rich, compelling next generation television services quickly and easily with minimal repurposing costs.
"With the increased competition in the telecommunications sector, network providers are seeking to distinguish themselves by delivering advanced broadband services," commented Bob Giddy of Amino. "The ability to work with ICTV and our existing partner, Myrio, to expand the capabilities of our set-top boxes will enable our customers to provide the depth and quality of content needed for them to be successful in the digital video business."
Middleware
Amino has also announced the availability of two middleware applications that have been ported to its diminutive AmiNET500 IPTV set-top box with 80Gb hard drive. The new Minerva iTVManager 2 and Myrio Interactive 3.5 client software have now been ported to the AmiNET500, enabling standard personal video recorder functions on live television broadcasts. Both applications were demonstrated at the TelcoTV conference.
"PVR is generating a lot of interest in the IPTV market," said Jean-Georges Fritsch of Minerva Networks. Their iTVManager supports the delivery of advanced television services, including live television, video-on-demand, subscription, pay-per-view and personal video recorder functions.
"PVR is a critical feature for broadband service providers to offer to their subscribers," added Ryan Petty of Myrio. "The timing of our launch positions us well as market adoption and deployment heats up. We are pleased to add the AmiNET500 to the list of Amino set-top boxes supported by Myrio." Myrio's IP Video Platform consists of Myrio Interactive, a full-featured end-user application enabled via a set-top box, and Myrio TotalManage, a back-office subscriber and content management solution.
Protection
Amino has also announced the integration of software based content protection systems from Latens, a privately held company based in Belfast, Northern Ireland. Latens claims that software security offers business benefits over conventional conditional access technology, including lower implementation and operating costs.