Comcast, the leading US cable television provider, has announced plans to begin the deployment of Microsoft TV software in the home state of the world's largest software company.
For Microsoft, it's a major milestone, having invested many years and billions of dollars trying to break into the cable industry.
Following a successful trial in the Seattle area with employees from both companies, the rollout in Washington State marks the first large-scale deployment of the Microsoft TV Foundation Edition software, together with the launch of dual-tuner digital video recording services.
The move will be watched closely by analysts and other cable operators and could be critical to the success of Microsoft in the television market. It follows the announcement in May of a deal that will provide Comcast with up to five million licenses for the set-top box software.
Comcast has just over a million cable television customers in the state, about half of which have digital cable and will receive the new Microsoft software. In total, Comcast has more than 21 million cable subscribers, of which over 8 million are digital.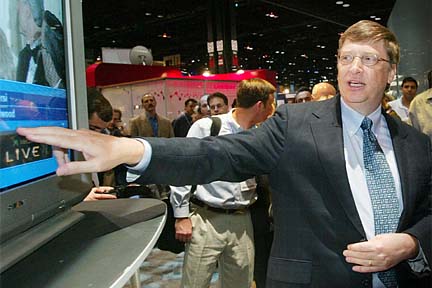 Microsoft TV Foundation Edition includes an interactive programme guide that integrates digital video recording and video-on-demand programming as well as high-definition television. It will also provide a platform for games and interactive information services. The programme guide is designed to recognise schedule changes and offers smart series recording, similar to the series link facility on Sky Plus.
The software will be available immediately to Washington State customers that sign up for new advanced Motorola dual-tuner digital video recorders for an additional $9.95 a month, or $4.95 for those already receiving high-definition services. The programme guide software will also be made available to other digital subscribers and will be automatically downloaded to existing set-top boxes in phases over the next few months.
"This deployment represents a key milestone in our long-term relationship with Comcast," said Moshe Lichtman, corporate vice president of the Microsoft TV division, who is responsible for the development, sales and deployment of Microsoft's platform products for the interactive television industry. "Microsoft and Comcast have a long-standing relationship, going back several years. About two years ago, we started talking with Comcast about developing software to help deliver a better consumer experience for advanced services like VOD, DVR and HDTV. In response, we developed Microsoft TV Foundation Edition."
"Comcast is the country's leading cable operator, and we believe this deployment demonstrates our success in developing innovative software that adds value for cable operators and their customers," continued Lichtman. "We expect the cable industry will continue to look to Microsoft for innovations that improve the cable TV experience for millions of viewers. It's an exciting challenge. This announcement is the result of many years of working together, but we don't see this as the culmination of our relationship; in many ways we see it as the beginning."
"We see tremendous value in this relationship," said Mark Hess, senior vice president of digital television at Comcast. "With this announcement, we're taking our relationship with Microsoft to the next level, and we are glad to have Microsoft supporting us as we continue to roll out enhanced digital cable services to our customers."
Hess said that in the trials consumers appreciated the convenience of the twin-tuner digital video recorder. "Our trial participants also were impressed by the overall speed and performance improvements of the Microsoft TV interactive program guide. Microsoft TV has a clean user interface, easy search and navigation features and easy access to on-demand titles. They loved the new look and feel of the service and the fact that it made the TV watching experience easier and more enjoyable."
He said that the Microsoft software allowed them to tie their services together in a way that is intuitive and easier to use for the consumer. "VOD, DVR, HDTV, on-demand news, weather and sports – they're all presented in a logical, easy-to-use way within the interactive program guide. With Microsoft TV software, we can help consumers find what they want, when they want it. That increases our ability make the service more valuable for customers and to earn more revenue by helping customers find more of what they want. It's a win-win situation."
The programme guide also aggregates listings of high-definition programmes, making them more accessible to viewers. "We've found that consumers with high-definition TV love it so much that it changes their viewing habits. Viewers often watch a show that's in HD when they wouldn't necessarily have watched it in standard-definition. That's a powerful testament to the attraction of HDTV."
The two companies are also working jointly to add features to future versions of the Microsoft software and are also looking at collaborating beyond the set-top box. Future developments could take advantage of broadband connections to integrate with computers in the home.
Microsoft will still be competing with the iGuide interactive programme guide developed jointly by Comcast with Gemstar-TV Guide. "We are launching the iGuide in other markets as we speak," said Hess. "We have always had a strategy of working with multiple technology partners. We think it is good for us, and it is good for innovation and competition."