Akimbo has formally rolled out its internet-to-television video-on-demand service in America and announced an exclusive alliance with Amazon to sell its set-top box player.
The Akimbo player can store up to 200 hours of video on an 80GB drive in Windows Media 9 format. Subscribers make a selection from the programme guide to download material over a wired or wireless broadband internet connection for later viewing, a process Akimbo dubs 'queue and view'.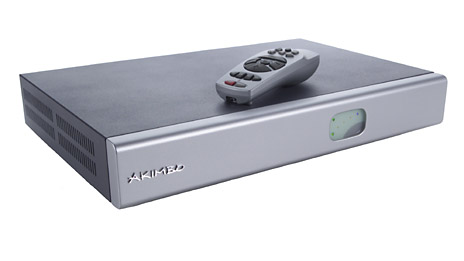 The Akimbo player can be pre-ordered online at Amazon.com for $229.99, with three months free subscription, normally $9.99 a month or $199.99 for the lifetime of the product.
The service currently offers a modest selection of content, sourced from Granada International and Turner, among other distributors.
The Akimbo service will also be available through the Online Spotlight guide on the new Microsoft Windows XP Media Center operating system from the first quarter of 2005.
"Media Center Edition represents the integration of the computer with the television, making it a natural fit for Akimbo," said Josh Goldman, chief executive officer at Akimbo.
Akimbo is the first in the emerging category of broadband video-on-demand services in the pipeline, including Dave TV, Disney's Moviebeam, and a planned service from TiVo and Netflix.