Not content with dominating the PC market, Microsoft has got its eye on the TV in the corner.
The company is launching a significant advance into the living room with a range of products, including a new release of its Media Center Edition software. Leading computer manufacturers will be launching new Media Center computers. Partners including HP will provide wireless enabled Media Center Extender set top boxes.
At the Shrine Auditorium in Los Angeles, Microsoft chairman and chief software architect Bill Gates unveiled Windows XP Media Center Edition 2005, the core of Microsoft's vision for Digital Entertainment Anywhere.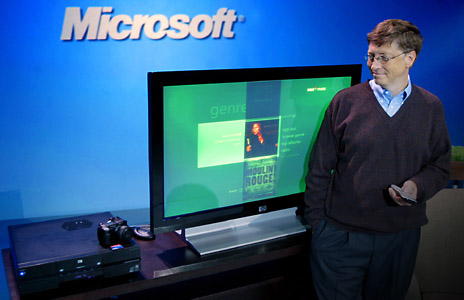 "Today, the dream of digital entertainment becomes a reality," said Gates. "People want to choose how and where they enjoy their digital media, and to easily customize their digital entertainment experiences. The vast array of innovative new products and services announced today from Microsoft and our partners enables them to do just that."
"We could say that video today is sort of where music was, or photography was four years ago," he said.
Bill Gates said that while in the analogue world we are accustomed to many remote controls "We need something that works in the living room, where you can stand 10 feet away and use a single remote control that lets you understand exactly what you're navigating."
Basic tasks are currently too difficult, he said "We actually have to raise the level of richness, reduce the complexity, and unify things at the same time we're offering more variety and more power."
Media Center
With only around a million Media Center computers sold to date, Microsoft is initially aiming for four or five times that number.
A previously previewed on informitv, the new Media Center includes provision for multiple tuners – up to one digital and two analogue receivers in the US. It will also support high definition television by the end of the year.
Dell, Gateway, Toshiba and Sony are among manufacturers that will be offering new Media Center PCs. Many will feature integrated DVD and CD recorders.
Among other features, Windows Messenger is now integrated, enabling users to chat with friends using the wireless keyboard while watching television.
A rather more quirky feature will be downloadable characters that can dance on screen in time to music.
Microsoft partners are also announcing Media Center Extender set top box products. These devices use a wired or wireless home network to extend the Media Center experience to televisions or other displays in other rooms.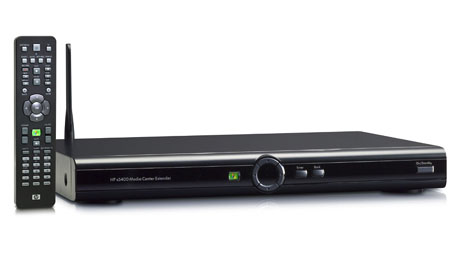 HP will be shipping the Media Extender x5400 at an estimated street price of $299. Up to five different devices can run simultaneously, depending on the specification of the host Media Center, although only one can be wireless and ATSC high definition is currently not supported on the remote boxes. A similar device from LinkSys will follow later in the year. There will also be a Media Center Extender available for Xbox.
Reuters News
To coincide with the launch, Reuters has announced that it will introduce an interactive, full-screen Reuters News channel, providing Media Center PC users with continuously updated news footage and easy-to-use DVD-style interaction.
The service, delivered by The FeedRoom, will initially be available in the US market, offering access to a selection of Reuters video footage used by television news editors around the world. Users will be able to see the latest business and market news via packaged reports from key financial cities and watch unedited and natural sound footage of breaking world news.