The Disney Channel UK offers viewers the chance to play along during the Kids Awards 2004 show through a synchronous interactive application developed with Ensequence using their On-Q authoring tool.
The show provided a high-profile opportunity for Disney to evaluate the effectiveness of the Ensequence authoring system, which enabled the complex application to be turned around extremely rapidly.
In the programme, satellite viewers can see programme-related questions appearing on screen every few minutes and can select an answer using their remote control. Correct responses are instantly rewarded by uncovering an exclusive backstage video clip, collecting points for a chance to win a prize.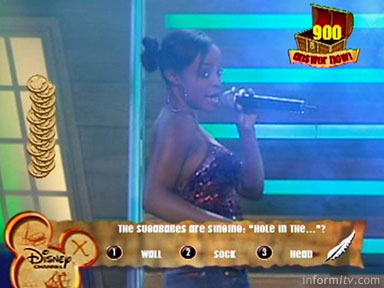 Robert Markham, executive producer, new media said: "This application is a major innovation not just for the company but the industry as a whole. It continues Disney's commitment to bring high quality interactive content to kids in the UK."
Broadcast playout services for the first transmission and subsequent repeats of the one-off show were provided by Globecast.
Last year Disney Channel UK received an interactive award at the BAFTA Children's Television and Film Awards for Star Ticket Active, a show that gave five young viewers the chance to perform on stage alongside international music stars at the annual Kids Awards.