A number of German digital channels have been brought together to produce an Olympics service incorporating interactivity using the MHP standard. A special package of four additional Olympics channels is available for the duration of the event, offering a total of 1,400 hours of coverage.
The service is provided in collaboration between ARD, a consortium of public broadcasting services which produces the main public television channel Das Erste, and the German national public broadcaster ZDF. ARD and ZDF are each contributing two additional digital channels, which are temporarily repackaged as Athen 1-4. After the event they will return to their normal schedules.
The channels are available free to view on digital satellite, cable and terrestrial television and the interactive services can be received using an MHP capable set-top box from the Astra 1H satellite.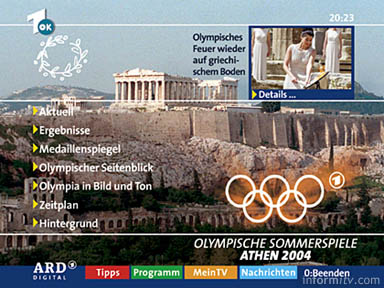 The interactive service links the channels and provides a programme guide to coverage across Das Erste and the four special event channels, which can be selected directly.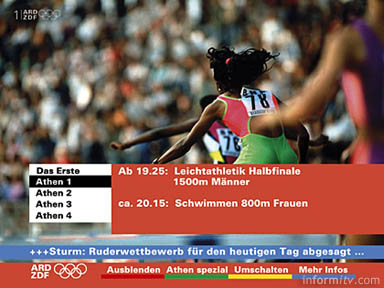 The blue button provides access to further information with coverage continuing in quarter screen.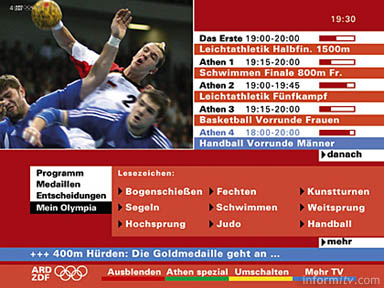 A "My Olympics" feature allows viewers to select coverage by sport. Other available information includes event previews, results and a medal table. A news ticker provides updated headlines.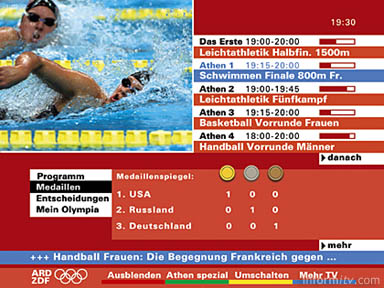 The service demonstrates a considerable commitment to the MHP, which provides an open standard for interactive services.
It follows similar interactive coverage of the Euro 2004 football in Portugal and the Tour de France.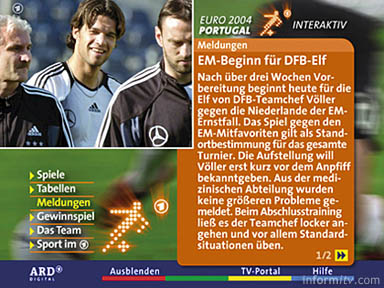 During Euro 2004, ARD Digital offered an interactive service that offered team details and statistics.
Immediately following the football, a similar service was offered for coverage of the Tour de France cycle race.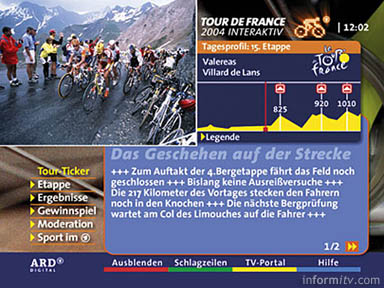 MHP
MHP, or Multimedia Home Platform, is an open standard for interactive services.
The European Commission recently reiterated its support for such open and interoperable standards for interactive television, but accepted that this should not be made legally binding following representations from broadcasters, many of whom have made significant investments in other standards.