The World's first interactive Olympic games will provide digital television viewers in the UK with unprecedented access to an additional thousand hours of coverage, with the choice of up to four additional video streams in addition to over 250 hours of Olympic action on the main network channels.
The BBC is providing its most ambitious service ever, with even more comprehensive coverage available through interactive television and broadband services.
Multiscreen matures
A new look interactive multiscreen application provides digital satellite and cable viewers with access to a main window with four additional preview panes at the right of the screen.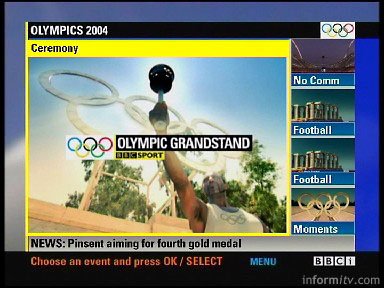 On Freeview digital terrestrial television, viewers are able to access two additional events through an interactive menu.
Unlike previous services, the main multiview is sufficiently large to allow watching the main feed while selecting audio from one of the other streams. This allows users to monitor more than one event. However, the picture in picture effect is lost when selecting one of the secondary streams, which is perhaps a missed opportunity.
During the opening ceremony one of the additional streams was mercifully used to provide a clean feed of stadium sound without commentary. It also offered access to coverage of football events that were already underway. During the games, each steam will generally provide coverage of a different event.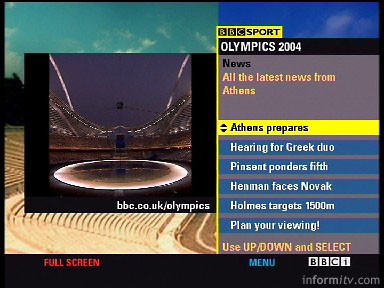 At the bottom of the multiscreen view is a ticker showing latest news headlines. Further news stories and an updated medal table are available through the menu of options.
Also new in this application is a schedule view providing a timetable of forthcoming events of the day. This provides an electronic programme guide style track listing for each stream. Given the number and variety of events on offer, this is a significant benefit to the user. Unfortunately, it does not seem to be possible to select the stream directly from the schedule.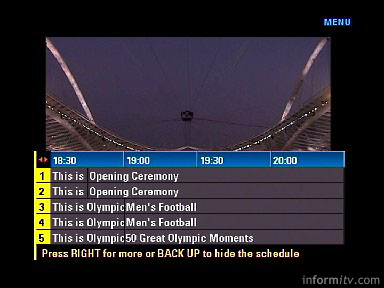 Martin Hopkins, Executive Producer believes the Olympics is ideal for interactive television: "Before the arrival of digital television thousands of hours of television coverage was simply lost to the viewer – the Olympics provides well over 3,000 hours of television. Digital television enables us to offer more output and give our audiences more choice about that they watch. In effect we are giving the viewer greater control."
Wide disappointment
Unfortunately, the coverage from the host broadcaster is originated in standard 4:3 aspect ratio rather than 16:9. As a result, when the interactive streams are viewed on a conventional 4:3 television they are surrounded by a wide black border. Studio contributions are produced in widescreen.
Broadband
In addition to comprehensive coverage on the BBC web site, the Athens Olympics will see the most ambitious broadband service ever launched by the BBC.
"We're going to stream live and on demand action for UK broadband subscribers," says Ben Gallop, editor, sport interactive. "The service will carry the same five streams as those offered on interactive television. There will also be an on-demand service, which will allow people to pull up the big events of the day."
"This is the first ever interactive Summer Olympics," said Andrew Thompson, of BBC Sport. "Our broadband service complements our interactive TV offering – allowing us to offer a variety of platforms for licence-fee payers to access the world's greatest sporting event."
NBC Showcase
Meanwhile, the EchoStar DISH Network is teaming up with NBC to provide the first major interactive multiscreen application to be seen in the United States. The service will be available to more than 9 million DISH Network customers.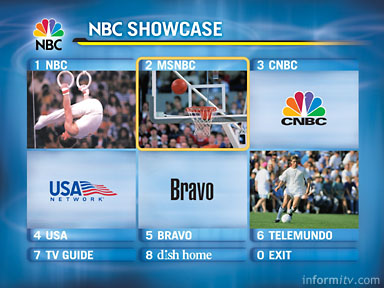 The NBC showcase allows users to monitor up to six channels on a single television screen and select coverage to view in normal full-screen format.
Five of the six showcase windows will air real-time coverage from MSNBC, CNBC, USA, Bravo and Telemundo, with the sixth showing highlights.
CBC Sports Plus
In Canada, CBC Sports Plus is available to 700,000 Bell ExpressVu subscribers with interactive receivers.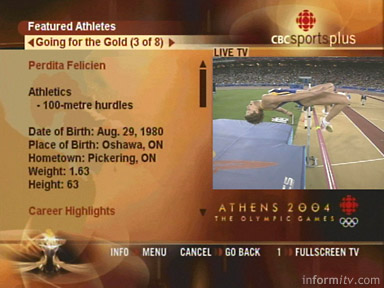 An interactive application provides a schedule of live coverage on CBC, with updated medal tables and details of the Canadian team.
A four-way composite screen, also available to viewers without interactive services, provides an overview of the current coverage across four Canadian broadcasters.
Greece
Meanwhile Eurosport International has teamed up with Visiware to offer an interactive service on the Greek satellite television service Nova.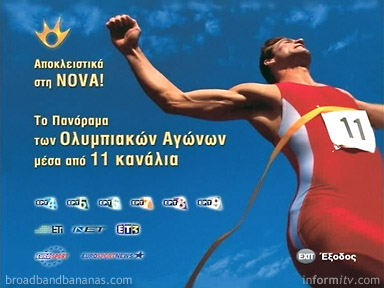 The interactive application provides a scrolling news ticker with links to background stories, current medal rankings and a daily programme guide, presented as a text overlay on a translucent background.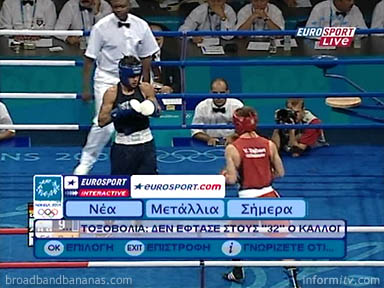 The pan-European Eurosport channel is available in 19 different languages across over fifty countries. Launched at the end of 1999, Nova remains the only digital television platform in Greece, host to the 2004 Olympics.