Over ten million UK households with digital terrestrial and satellite television now use the BBC's 'always-on' digital interactive services. The news comes as a new version of the BBCi service is launched on Freeview.
Recent research commissioned by the BBC and Teletext indicates that the 24/7 interactive information service was used by 3.6 million adults in Freeview homes during April and May 2004, or just over half of the digital terrestrial audience. Over 5 million adults in Freeview homes were aware of the service, which is over three quarters of the available audience.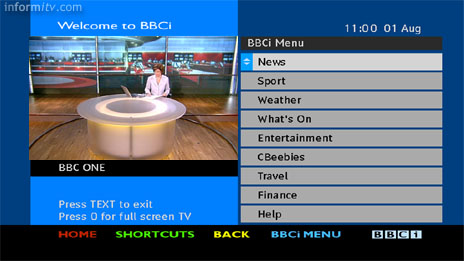 Meanwhile a monthly study of satellite households carried out by TNS Market Research found that 6.6 million adults used BBCi services in May 2004 while over 12 million were aware of the service.
A year previously, the BBC said that over 3 million adults used the BBCi television service every week. While the latest numbers suggest a growing awareness of the digital text service, according to BBC figures the CEEFAX service on analogue television was regularly used by around 22 million people a week.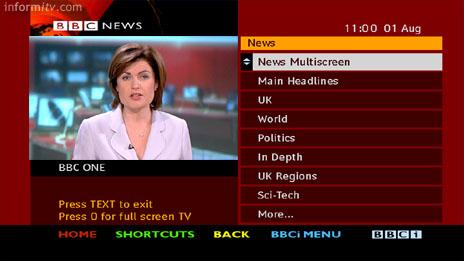 Rahul Chakkara, controller of BBCi 24/7 services, said: "The growing reach and usage of BBCi reflects what the audience have been telling us – they value an interactive service that is available on demand, complements programming, and is free. Our challenge now is to entice the rest of the digital public to use BBCi."
The research comes as a new version of the service is released on the Freeview platform, providing significant improvements in speed and a new design closer to that available on satellite.
"We recognise we need to offer a source which is as efficient and user-friendly service as possible so we have made changes to the application available on Freeview enabling viewers to access content much faster," said Chakkara.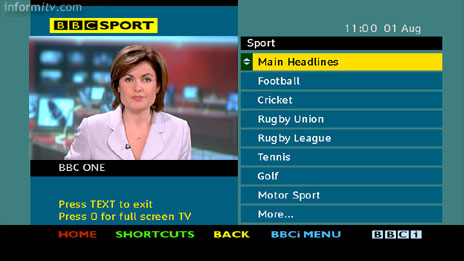 BBCi's interactive services are available 24 hours a day and can be accessed on all major digital platforms.
Digital viewers can select from a range of text information and video clips providing news, weather, sports, entertainment and other information by pressing the red button on their remote control.