Among the enhanced television programmes in the line-up for the BBC's Autumn Schedule will be the next in the Walking With… franchise, taking viewers on a space walk.
Space Odyssey – Voyage To The Planets, from the makers of Walking With Dinosaurs, takes a grand tour of the solar system seen through the eyes of five astronauts on a six-year mission to explore the final frontier.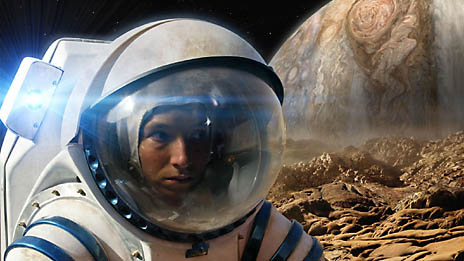 Digital viewers will be able to see the European Space Agency's mission control room, where some of this series was filmed, to meet scientists and astronauts involved in real space missions.
Other programmes on the interactive slate have an emphasis on public service themes, including a genealogy series, Who Do You Think You Are?, in which celebrities attempt to trace their ancestry; Fat Nation – The Big Challenge, a health initiative dealing with obesity; Sleep, an investigation into insomnia; and Crisis Command, a simulation of various national emergencies. The spy drama Spooks also returns for a second series, this time offering interactive viewers the chance to take part in activities after each episode.