UK satellite broadcaster BSkyB is to launch a free-to-air satellite service with almost 200 television and radio channels together with interactive services. The free-to-air package will be available for a one-off payment of £150 which includes installation. The company has also announced separate plans to launch premium high definition television services in 2006. We have further details, together with comment and analysis.

UK satellite broadcaster BSkyB is to launch a free-to-air satellite service with almost 200 television and radio channels together with interactive services. The company also announced plans to launch high definition television subscription services in 2006.
The service will be available for a one-off payment of £150 with no monthly subscription obligation. The package will include a Sky digibox, minidish, viewing card and standard professional installation and will provide a 24 month free-to-air viewing entitlement.
At this price, the satellite television operator is effectively subsidising the cost of receiving satellite television in order to provide an attractive alternative to free digital terrestrial television while hoping to up-sell viewers to subscription services at a later date.
Sky's announcement at an investor conference in London surprised the industry as a dramatic departure from their pay television business model. The reality is that the majority of the channels involved are already freely available on satellite, but the Sky package will make them considerably more accessible to the consumer while re-inforcing Sky's platform dominance, exploiting their strengths in marketing and customer service.
"These initiatives are another step in giving consumers a choice from Sky that suits their needs at the top and lower ends of the scale. They will help drive even greater take-up of digital TV services and enable Sky to enjoy a close relationship with even more customers," said James Murdoch, the chief executive of Sky.
The package of free channels will include the BBC's digital channels, ITV, Channel 4, Channel Five, ITV News, Sky News and CNN plus other specialist channels. In total the line-up will provide 115 free-to-air television channels, 81 digital radio services and 13 dedicated interactive services, as well as 'red button' options associated with channels such as Sky News Active and BBCi.
Viewers of the free-to-air services will have access to Sky's comprehensive electronic programme guide or EPG featuring seven-day listings of forthcoming programmes on all channels. As the Sky digiboxes contain an integrated modem they will be able access online services including e-mail, SMS text messaging and government public information services.
Access to the encrypted signals of ITV1, Channel 4 and five will be available through a viewing card provided which will also enable automatic reception of the relevant variant of regionalised free-to-air channels.
Significantly, the free-to-air satellite service will offer an easy upgrade path for viewers who choose subsequently to add a pay television service to their viewing options. This will be available as an instant upgrade with a single telephone call to Sky.
The City responded positively to the news, which demonstrates a determination by Sky to maintain the advantage in digital television. Following results that indicated a slowing in subscriber growth, this was the first major announcement to come from the new Sky Chief Executive James Murdoch, recently appointed with the blessing of his father Rupert.
The move will also appease regulators, as Sky was keen to stress the new free-to-air satellite proposition is part of their commitment to 'Digital Britain' and will support the Government's proposed switchover to digital-only broadcasting by providing an additional subscription-free option for viewers not currently attracted to pay television.
With a free-to-air satellite service potentially available to the vast majority of the country, the prospect of analogue switch-off appears somewhat more attainable, which will no doubt endear Sky to the authorities.
The move to launch a free-to-air satellite service may be seen as a direct response to the threat of Freeview, the digital terrestrial television package, available to viewers with a digital receiver costing from around £50.
Freeview has been surprisingly successful in attracting viewers and is now available in around 3.5 million homes, overtaking cable, while the growth in Sky subscriptions has fallen. Most analysts consider that the success of Freeview was a significant factor in the slowdown in the subscription growth of the satellite operator. Sky is a member of the consortium backing Freeview, together with the BBC and the transmission company Crown Castle.
Sky's announcement pre-empts the BBC, which had also also been considering the possibility of a free-to-air service on satellite, dubbed Freesat. The public service broadcaster previously dropped the use of Sky's conditional access encryption service, effectively making BBC channels available to satellite viewers without a subscription. Commercial broadcasters, who use the conditional access system to provide regionalised services and regional advertising, did not follow suit.
BBC director of marketing Andy Duncan officially welcomed the Sky announcement, saying "This is good news for our viewers as it provides another route to all the BBC's digital services without subscription. This follows the BBC's own view that free-to-air digital satellite is an important missing piece in the jigsaw to achieving a fully digital Britain."
BBC sources have suggested that the corporation may continue with its own proposals for a free-to-air satellite service and may co-operate in a joint proposition. The public service broadcaster has heavily promoted the Freeview service and is likely to want to communicate a similar message about freely available BBC channels on satellite, which might be more sensitive if it is closely associated with Sky. It may even be in both parties mutual interest to extend the Freeview brand to include the satellite offering.
Sky's announcement effectively makes it much easier to receive existing free-to-air services by satellite and makes it more difficult to argue for an open free-to-air satellite platform.
By continuing to establish the Sky brand as synonymous with satellite television in the UK, it will continue to ensure the dominance of OpenTV as the platform for interactive services in this market. As a result, any opportunity to migrate to an open standard such as MHP for a free-to-air platform is considerably reduced.
The Sky announcement could have a crushing effect on Top-Up TV, the initiative to offer limited subscription services on the terrestrial platform. With a free-to-air satellite service providing the potential to add-on individual subscription channels from a much greater range, Top-Up TV may be seen by consumers as a comparatively weak offering. That at least may offer some comfort to the BBC, which initially opposed the service fearing that it would confuse the Freeview message.
More significantly, if free-to-air services are predominantly received through digiboxes equipped with a proven subscription mechanism, it could have considerable consequences for the case for the licence fee and its current system of collection.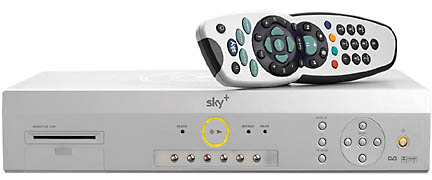 Sky also stressed the importance of the Sky+ service that provides personal video recorder facilities for Sky subscribers. As part of a recent promotion the service is now available to all subscribers at no additional monthly fee. The company said that unrivalled customer satisfaction with Sky+ leads to higher premium channel usage and lower subscriber churn. It also drives the adoption of multi-room subscriptions that provide even more viewing flexibility. Once again, Sky hinted that Sky+ provides a more advanced platform for future developments, with a new version to be available in 2005.
According to Sky figures, average viewing increases from 23.4 to 27.4 hours a week in Sky+ homes and over half of viewers report watching a greater number of channels, with a significant increase in movie channels compared to an overall drop in viewing terrestrial networks. Over three quarters of viewers reported not watching advertisements when replaying recorded programmes.
In a separate equally bold initiative, Sky announced that the company has also begun developing a premium package of services in the High Definition Television or HDTV format for launch in 2006.
The introduction of high definition services is intended to strengthen further the differentiation between digital satellite and other television platforms, appealing to consumers with wide-screen televisions, plasma screens and home cinema systems.
Sky reported that DVD is raising consumer expectations for picture quality and the difference is particularly noticeable on large plasma or LCD screens. The company says that 76% of Sky households have DVD compared to 41% of all UK households. In addition, 25% of Sky customers have surround sound. Consequently, they claim, high definition is the next step in audio visual entertainment. As well has enhancing the consumer experience, the move is intended to increase customer satisfaction and lower subscriber churn.
The premium service will launch in 2006 with a set of dedicated high definition channels and access to selected events produced in high definition format. The timing of the launch could be convenient for coverage of the World Cup to be held in Germany. Many American shows are now produced in high definition, providing a potentially strong line-up of programming.
In addition to the package of channels to be offered by Sky, other broadcasters on the digital satellite platform will also be able to provide high definition services. However, although broadcasters such as the BBC are beginning to produce some programming in high definition, they do not currently have the capability to broadcast high definition channels.
A Sky spokesman was unable to confirm at this stage what technical standards would be used for the high definition service, saying that such decisions would be taken nearer the prospective launch date. The transmission standard could use MPEG-2 compression, as used by the current Sky service, or could potential use MPEG-4 or even Windows Media 9 formats, which offer higher levels of compression. The decision over the number of scan lines and frame rate will also be eagerly monitored by industry watchers.
High definition is already a reality in the United States and Europe already has a commercial high definition television service, known as Euro1080 after the television format it employs. This is technically MPEG-2 MP@HL 1920×1080 (50Hz), which provides an interlaced picture of 1920×1080 pixels. The European Broadcasting Union is also considering a progressive scan format of 1280×720 pixels.
The move to high definition will once again place Sky in a position of technical leadership in digital television.
By appealing to early adopters at the high end and those so-far resistant to pay television at the low end, Sky is clearly aiming to have all bases covered.