Comcast plans to put Microsoft's digital television software in set-top boxes for as many as 5 million of its 21 million customers, with the option to expand the rollout at a later date. The move is a significant success for Microsoft which has long established ambitions in the cable television market.

Comcast, the largest cable operator in the US, plans to put Microsoft's digital television software in set-top boxes for as many as 5 million of its 21 million customers, with the option to expand the rollout at a later date.
The licensing deal is the biggest to date for the use of the Microsoft TV Foundation Edition software and is a significant win for the world's largest software company, which has invested millions in an attempt to break into the cable market.
"We're very impressed with the Microsoft software platform and its ability to enhance and promote video on demand, as well as its capability to launch other interactive services," said Steve Burke, president of Comcast Cable. "We're excited about working closely with Microsoft to jointly define the digital TV experiences of the future and to continue bringing innovative services to our cable customers."
In addition to an on-screen interactive program guide, the Microsoft software enables video-on-demand and digital video recording.
The Microsoft TV Foundation Edition was launched in June 2003 at the NCTA show, the annual gathering of the cable industry.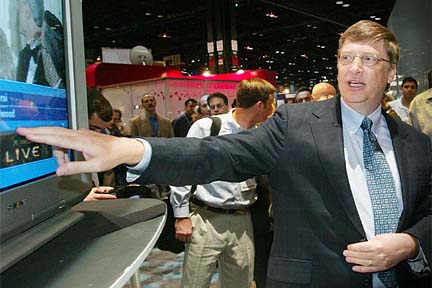 At the launch, Moshe Lichtman, corporate vice president of the Microsoft TV Division, explained: "The software is lean enough to run on existing set-top boxes, but powerful enough to deliver rich digital cable services like on-demand and managed content – including games."
"Our vision is to create new value for network operators through software that enhances and simplifies the consumer TV experience" said Lichtman. "We are working hard with the cable industry to take TV to the next level, and develop software solutions that help operators be more agile in delivering on-demand and other premium services for today's set-top boxes. Tens of billions of dollars have been invested by the cable industry to make digital cable a valuable asset for consumers, and we are well positioned to help the industry realize the potential of digital TV now and in the future."
The latest version of the Microsoft software was announced at the NCTA show in New Orleans. Microsoft TV Foundation Edition 1.7 includes support for the Motorola DCT6412 dual tuner set-top box with integrated digital video recording and high definition capability. The latest software release builds on previous versions to enable a fluid, integrated subscriber experience across broadcast, on-demand, high-definition and time-shifted content. The software also includes an improved Interactive Program Guide (IPG) supporting up to 14 days of listings.
Microsoft aims to play a big role in the delivery of television in the future, especially in the field of IPTV, which delivers TV over Internet Protocol data networks, enabling an arbitrary number of channels, targeted advertising and rich user interaction.
Migration to IP-based delivery offers operators potential cost savings in using a unified network where video could run on the same digital infrastructure used for high-speed data and telephony.
Microsoft's latest video compression scheme, Windows Media Video 9, delivers equivalent quality audio and video at approximately one-third the data rate of MPEG-2 as used in traditional digital broadcasting systems, significantly reducing the data requirements for delivering standard and high definition television services.