The carbon footprint in terms of electricity usage of viewing one hour of video-on-demand streaming is three times that of boiling an average electric kettle. The energy usage of viewing on a 50-inch television is 90 times that for watching on a phone. On average, the viewing device is responsible for half the overall energy usage. These are some of the notable factors identified in a paper published by the Carbon Trust on the Carbon Impact of Video Streaming, with input from the BBC, ITV, Sky and BT, funded by Netflix.

The paper was commissioned by DIMPACT, a collaborative initiative between researchers at the University of Bristol and several media organisations, and published by the Carbon Trust, based in London, which was established in 2001 to advise on sustainable energy strategies.
The research concluded that increases in video resolution affect the bitrate required to transmit video data but have only a very small change in the carbon impact.
Lead author of the report, Andie Stephens of the Carbon Trust, said: "Our white paper shows that the carbon footprint of watching an hour of streamed video content is minor compared with other daily activities. As the electricity grids continue to decarbonise, and telecoms network operators increasingly power their networks with renewable electricity this impact is set to reduce even further."
The BBC has studied its own total energy use across satellite, terrestrial, cable, telco and online distribution. For the 2019-2020 financial year it was 1,789 GWh, comparable to 0.6% of electricity use in the United Kingdom in 2019. This equals 0.55 million tonnes of CO ₂ equivalent emissions, which was approximately 0.1% of UK carbon emissions in 2019.
Of all platforms, satellite was found to have the largest energy footprint, accounting for 40% of the total, followed by terrestrial at just under 20%, which was above cable and telco television, with iPlayer at 141 GWh, or 8% of the total.
The vast majority of this energy usage comes from consumption, through millions of devices in homes. This accounts for almost all the energy usage of satellite distribution.
Considering energy usage per viewer hour, the iPlayer was just below satellite and cable, but almost double that of terrestrial television transmission.
Of course it depends on which device it is viewed. Smartphones and tablets consume relatively little energy, compared to a set-top box and a large-screen television, which consume half the power of a desktop computer and monitor.
Carbon Impact of Video Streamingis published by the Carbon Trust and is available from its web site. BBC Research and Development published 'The carbon impact of streaming: an update on BBC TV's energy footprint' in response.
www.carbontrust.com
www.bbc.co.uk
Adults in the United Kingdom spent more than three and a half hours online each day in 2020. That is more than an hour longer than those in Germany and France, and half an hour more than in Spain, but about an hour less than in the United States. Users of YouTube aged between 18 and 24 spent an average of 1 hour 16 minutes a day on the service on their computers, tablets and smartphones.

The annual study of national online habits from the communications regulator Ofcom showed that those aged 15-16 spent the most time online, at an average of 4 hours and 54 minutes a day. Those aged 18-24 spent an average of 4 hours and 34 minutes online. The average for all those aged over 18 was 3 hours and 37 minutes.
These figures do not include television set and connected device usage. In addition, an average of 1 hours 21 minutes a day was spent watching online services such as Netflix and BBC iPlayer on television sets, an increase of 24 minutes a day on the previous year.
Average adult internet usage in the United Kingdom was up 9 minutes on the previous year. That is a relatively modest increase given the reliance people had on online services during the pandemic, but online usage was already ubiquitous.
Average adult online usage rose to over 4 hours a day in April 2020, an increase of 37 minutes a day compared to the previous April. Among those aged 18-24 it rose to over 5 hours a day.
Internet users aged over 54 had the highest year-on-year increase, up by 16 minutes a day to 2 hours 51 minutes.
In the first quarter of 2021, average adult online usage had risen to 3 hours 45 minutes per day.
At the start of 2021 there were still an estimated 6% of homes in the United Kingdom that did not have internet access. That is around one and a half million homes. 18% of those aged over 64 do not have online access at home. In contrast, 99% of households in the United Kingdom with children aged under 18 have online access at home, although 4% of them only had access via a mobile network.
YouTube was the most popular app on mobile devices in the United Kingdom in September 2020, by reach and time spent per visitor per day. It was used on average for over half an hour a day, almost twice as much as Facebook. They both had around 43 million unique adult visitors in the United Kingdom, given them a reach of over 95% of the adult population.
Those aged 18 to 24 that used YouTube spent an average of 1 hour and 16 minutes a day on the service, not including usage on television.
TiKTok saw significant growth in usage during 2020. It now has nearly 14 million adult users in the United Kingdom, although it is also particularly popular among children.
The report also suggests that one in three adults in the United Kingdom visited the adult site Pornhub in 2020, with an average visit time of 10 minutes 20 seconds, or an average of 37 minutes per visitor in a typical month.
The Online Nation 2021 reportpublished by Ofcom provides a wealth of data on online usage in the United Kingdom and is available for download from its web site.
Apple will introduce a new SharePlay feature in its FaceTime video app, providing a way for multiple users in different locations to chat while watching video or listen to music. When a user plays media, playback will start for the whole group at the same time, with shared controls. The system synchronizes app playback on all participating devices so that group users can enjoy the experience simultaneously. However, they will all have to be entitled to play the media.

If someone in a FaceTime call initiates a group activity with an app that someone else on the call does not have installed, they will be prompted to download it from the App Store. Developers can provide special onboarding flows or trial offers for new users.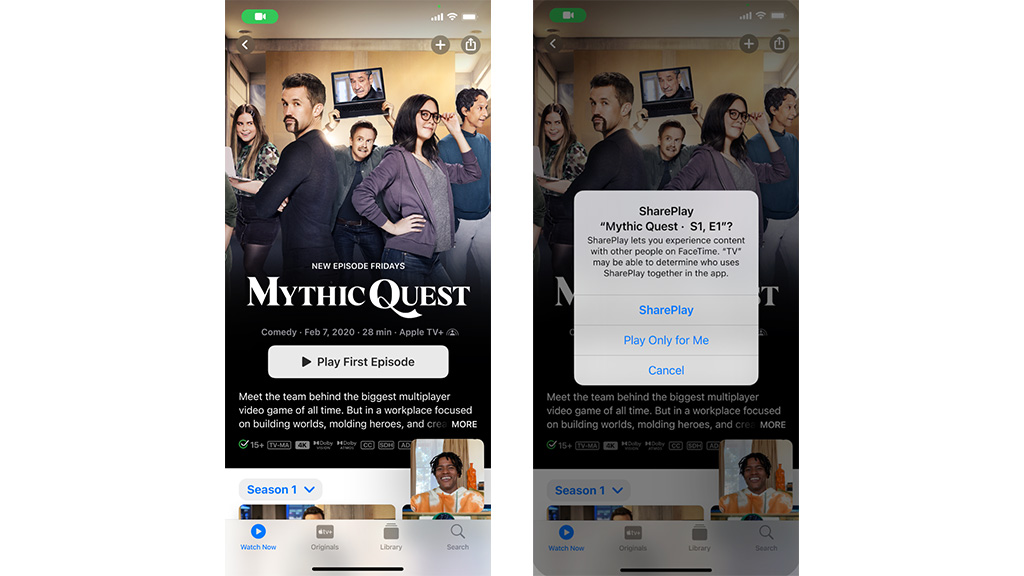 SharePlay will work with Apple apps, including Apple TV and Apple Music. Disney will support co-viewing features in Disney Plus, Hulu and ESPN Plus. WarnerMedia will include support for HBO Max, as will ViacomCBS for Paramount Plus and Pluto TV. TikTok and Twitch will also have support.
At the time of writing Netflix and Amazon Prime Video are absent from the partner list. Netflix has its own Teleparty, formerly known as Netflix Party. Amazon has its own Watch Party.

The Apple SharePlay capability will come with updates to Apple operating systems. SharePlay will be supported on the iPhone and IPad with iOS 15, on Apple TV with tvOS 15, and on Mac computers with macOS Monterey.
Developers can add support using the Group Activities application programming interface, which is integrated with Core Media services.
The term SharePlay echoes the AirPlay feature pioneered by Apple. Interestingly, Sony uses the term Share Play to refer to a feature that allows PlayStation Plus users to invite a visitor to view their screen for up to 60 minutes in a session.