Approaching a decade after the launch of BBC One in high definition, the BBC is apparently still unable to show regional programmes on the channel. Instead, several times a day it shows a red screen saying that programming will resume shortly. As a message to viewers it is unacceptably complacent.

After the main news bulletins, during the regional news and weather, viewers of the flagship channel watching in high definition are shown a red moving graphic with a caption saying the "BBC One HD cannot yet show programmes from your area". This is backed by rather irritating loops of video with music and sound effects, including barking dogs.
The slide says the regional programme is now on another channel, where it is available in standard definition and that programming will resume shortly on BBC One HD. In the case of the early evening regional news that is 25 minutes later, with a regular loss of viewers to other channels.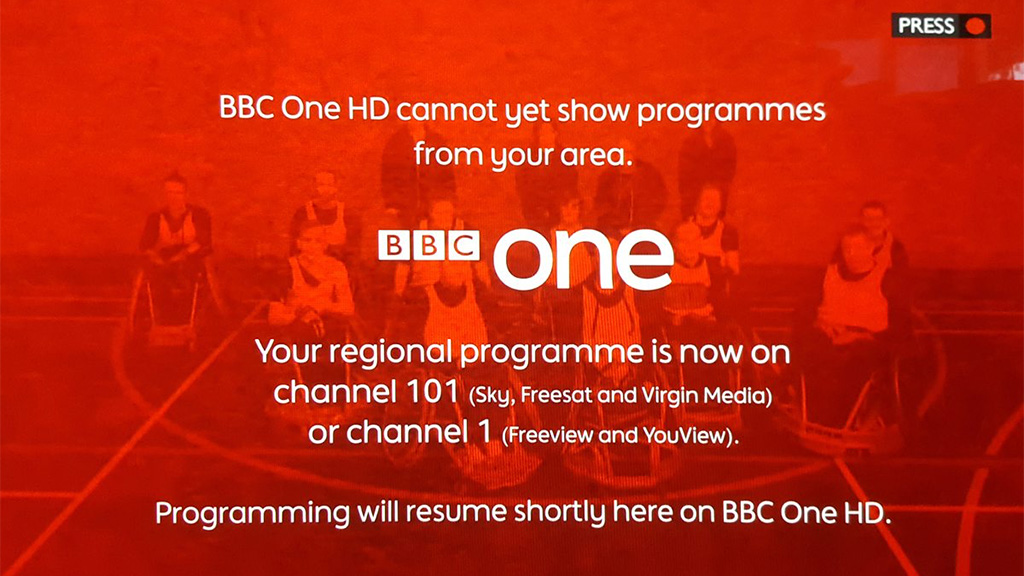 There is a similar routine in the regular regional opts during breakfast programming. Instead of the local news and weather, viewers are presented with a message to change channels, about six times during the course of the programme.
It is not clear whether the BBC actually expects viewers to change channels to watch local programmes, stay with the high definition channel until it resumes sometime later, watch in standard definition instead, or take the opportunity to watch or do something else.
The issue is as much political as technical. The BBC could elect to offer a sustaining service of network programming, in the form of a sports bulletin, for instance.
To do so would be to accept that regional news is not a priority. The BBC wants BBC One HD viewers to watch their regional news when it is available. Broadcasting another programme on BBC One HD during regional news programmes would defeat that object.
So the pretence is maintained that viewers are sufficiently motivated to change channels to watch regional news in standard definition instead.
It is not a matter of whether the regional news is in high definition or not but those that have elected to watch the main channel in high definition should not be expected to go elsewhere for regional programmes.
At a time when BBC is struggling to sustain its television audience it looks like an exercise in corporate complacency or indifference to the viewer. It is difficult to imagine that this would be considered acceptable at a commercial channel.
The BBC began broadcasting in high definition in 2006 as a trial service. It was replaced by a simulcast of BBC Two in high definition in 2013. BBC One HD launched in November 2010 with a simulcast network version of the main channel. National variations followed for Northern Ireland, Scotland and Wales in 2012 and 2013, but the channel does not provide regional variations in high definition.
The BBC provides multiple versions of BBC One on satellite, including regions for London, the South, the West and South West, Channel Islands, North East, North West, East Midlands, West Midlands, two versions for Yorkshire and two for the East, and even one for Oxford. But during regional programming, those viewing in high definition still receive a prompt to change channels.
Cable services are inherently able to deliver regional services to their service areas and no doubt Virgin Media would be pleased to offer them.
For terrestrial television there are multiple transmitters that are capable of delivering regionally distinct feeds, but not it seems in high definition.
No doubt this is down to legacy network architecture and cost, but it is difficult to see how this can be justifiable at a time when high definition television is mainstream.
As a result, many viewers will simply be missing out on regional programming, and possibly going elsewhere, which can hardly be an ideal outcome in terms of the public purposes of the BBC.
This is what the BBC has to say in its distribution strategy:
"The BBC's duty to ensure value-for-money in its distribution activity sometimes reveals trade-offs. For example, further expansion of the DAB network or delivering every regional variant of BBC One in HD via broadcast should only be implemented if and when the costs are proportionate to the audience value they would deliver. In the context of an audience-led transition to internet-delivered services, the BBC will deprioritise investment in technologies that it is confident will be superseded."
It seems that the BBC is more interested in pushing its iPlayer than serving its traditional television viewers.
The BBC spends £194 million a year on distribution and a further £490 million on content distribution and support.
One must wonder whether senior executives watch the output of their channels and what they think when they see these messages about what it communicates to their viewers.
Tony Hall, Baron Hall of Birkenhead, the director general of the BBC, is a former editor of the Nine O'clock News and a Director of News and Current Affairs. This must surely be a concern for him.
Perhaps Ofcom, as the communications regulator and regulator of the BBC should take an interest.