A new Panasonic smart television can access the full live and on-demand service of the German HD+ television platform without the need for additional hardware or a smartcard. Using the first commercial deployment of the HbbTV Operator App specification, or OpApp, it allows users to navigate through the HD+ channels and interactive services through an HD+ branded user interface.

The HbbTV OpApp acts like a virtual set-top box inside the smart television. It enables platform operators to provide a branded, uniform interface across different manufacturers. When switching the television on, it presents the user interface of the platform operator rather than the manufacturer of the set.
"We are very happy about this launch which is the perfect illustration of what the OpApp was supposed to do: enable an operator-specific user experience on a TV set without the need for additional hardware," said Vincent Grivet, the chair of the HbbTV Association.
"The HbbTV OpApp offers platform operators a game-changing new way of reaching their customers. We are confident that many more broadcast platforms will realise how powerful this is and will soon also adopt this approach, leading more TV manufacturers to ship OpApp compliant TV sets."
The world first applies to any 2019 model Panasonic OLED UHD smart television sold in Germany.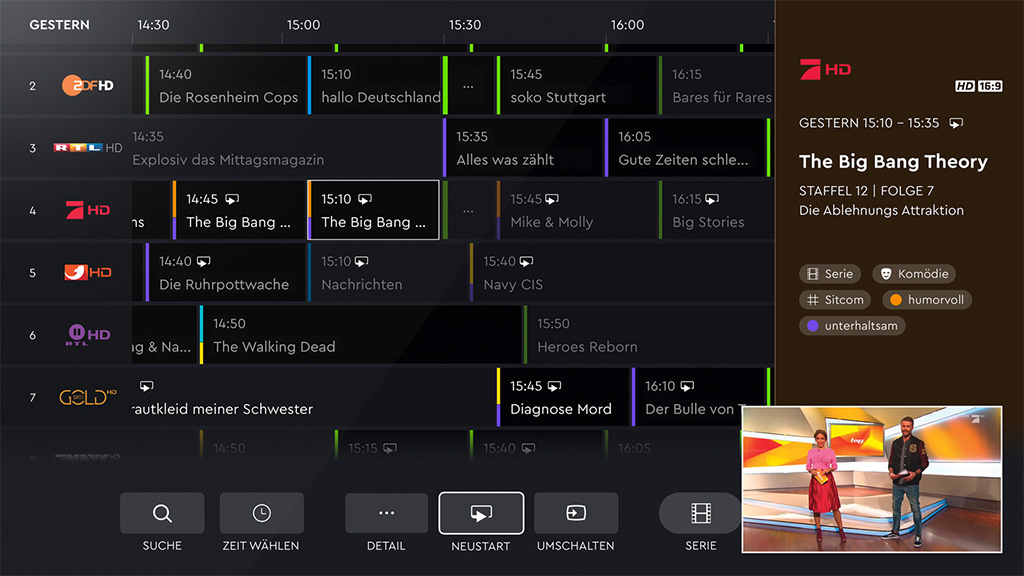 "As the leading company in the area of TV receiver technologies, Panasonic is convinced that the HbbTV OpApp will be an essential element of future devices. The direct implementation of HD+ in TV sets and the new HD+ comfort feature are quantum leaps forward in customer experience," commented Kai Hillebrandt, the managing director of Panasonic for Germany, Austria, Switzerland and the Netherlands.
HD+ is a high-definition satellite television platform for German-speaking users, owned by SES. It carries a range of high-definition channels. It has also offered an ultra-high-definition demonstration channel since September 2015.
HD+ is part of the Free TV Alliance, together with Freesat in the United Kingdom, Fransat in France and Tivù Sat in Italy.
Without the HbbTV operator app, the HD+ service requires a conditional-access module and smart card.
"The direct integration eliminates the entry barriers for the use of HD, UHD and non-linear offers like restart or 7-day-catch-up via TV in one go. We are playing in a whole new league now regarding convenience and simplicity," said Alexander Sacher, the CTO of HD+. "Our new offering is far more than just an additional option of receiving HD+. It might even stimulate the German TV market, high-definition television and the parallel use of linear and non-linear television."