Leading television manufacturers are showing 8K televisions at the IFA trade show in Berlin. With four times as many pixels as 4K screens, 8K displays promise even higher definition. Some of them are huge, but 8K does not necessarily mean massive screens.

Samsung has the Q900R QLED 8K, available in four screen sizes from 65" to 85" across the diagonal. It supports the full 8K resolution of 7680×4320 pixels but will also intelligently upscale video from lower resolutions, using a combination of interpolation, noise reduction and edge restoration. With a 4,000 nit peak brightness, it supports HDR 10+ to provide high dynamic range imaging. It will be available worldwide, in the United Kingdom from mid-October.
"At Samsung, we've worked tirelessly over the years to move the industry forward when it comes to premium picture quality, and the introduction of our QLED 8K with 8K AI Upscaling is an integral component as we look to the future of displays," said Jongsuk Chu, who is responsible for the Visual Display Business at Samsung Electronics.
LG showed an 88" 8K screen with OLED display technology, with over 33 million light emitting pixels providing true blacks, unlike backlit LED displays.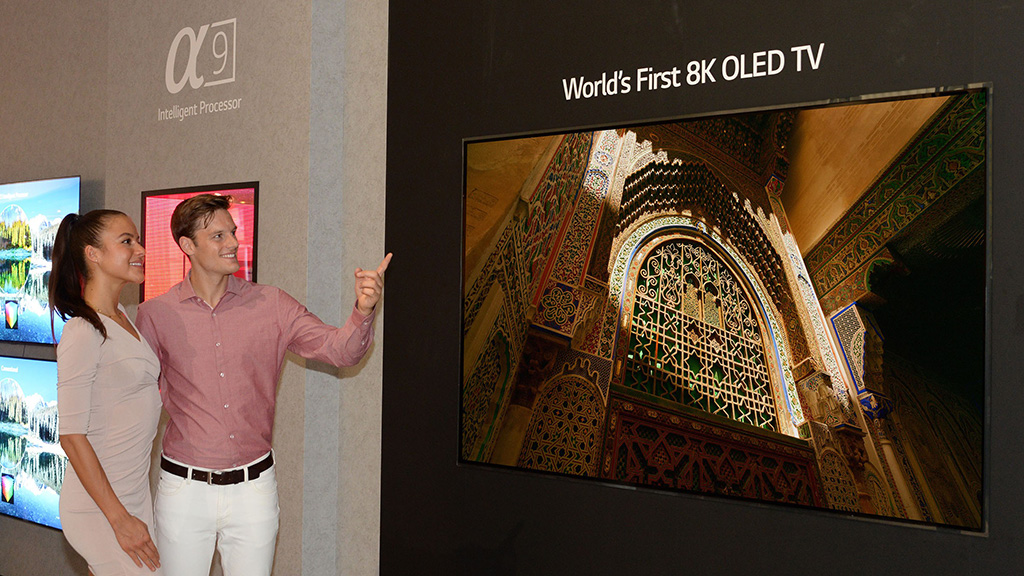 "LG's first 8K OLED TV is the pinnacle of technological achievement and the next evolutionary step in display technology" said Brian Kwon, president of LG Home Entertainment Company. "4K OLED played a major role in reshaping TV industry and LG is confident that 8K OLED will do the same."
However, the 8K LG OLED display will not be available for sale, yet. With OLED television shipments expected to double in 2018 and reach over nine million units by 2022, LG says it will continue to increase the OLED share in its premium television portfolio and drive large scale consumer adoption of OLED televisions. While the 8K television market is still in its infancy, it is expected to grow to more than 5 million units by 2022 and LG says it is committed to leading the ultra-premium market with its 8K OLED television technology.
Sharp and Toshiba also had 8K screens on show, while they were conspicuously absent from the Sony, Panasonic and Philips stands.
There is predictable scepticism about the demand for 8K resolution, particularly from manufacturers without 8K products to show and from broadcasters that are still grappling with HD and 4K. There is also a question of whether most homes can accommodate screens large enough to justify 8K resolution.
If the sales of 4K displays are anything to go by, some consumers will always want the latest and greatest, even if there is not much 8K video to display on them.
8K displays may initially be used for professional and commercial applications, but the technology will also come to consumers.
It seems technologically inevitable that screen resolutions will continue to increase, particularly if smart upscaling can render acceptable results irrespective of the input resolution.
Japanese broadcaster NHK is planning to launch an 8K satellite channel before the end of 2018, in preparation for the Tokyo Olympics in 2020.
Demand for television screens of 60" and larger is burgeoning and their annual shipments will nearly quadruple in 10 years after first topping 10 million units back in 2016, according to IHS Markit. They are forecast to reach 23 million units in 2018, 36 million in 2020 and 54 million in 2025.
Increased capacity in large-screen production will intensify competition in the market, which will further drop display prices, boosting demand.
In the first half of 2018, GfK reported global television sales of €45 billion, with sets of 50″ or above accounting for half of that value. Global sales of 238 million devices are expected for 2018, which means a two percent increase compared to 2017.
Yet for those that suggest that screens will have to be huge to benefit from 8K resolution, we simply note that at the standard print resolution of 300 pixels per inch an 8K 16:9 image of 33 megapixels has a diagonal measurement of less than 30". So you may expect to see 8K displays even on screens of relatively modest size.