A new study shows that almost a quarter of online video services in Europe are aimed at audiences outside their country of origin. The United Kingdom is home to over 200 online video platforms, including more than 80 targeted at users outside the country. However, the prospect of the United Kingdom leaving the European Union is leading to regulatory uncertainty for services based in London but addressing other countries in Europe.

The United Kingdom, and London in particular, is a global media centre, with 226 online video services, of which 82 are directed at other countries.
Across Europe, 153 out of 673 online video services are targeted outside their country of origin.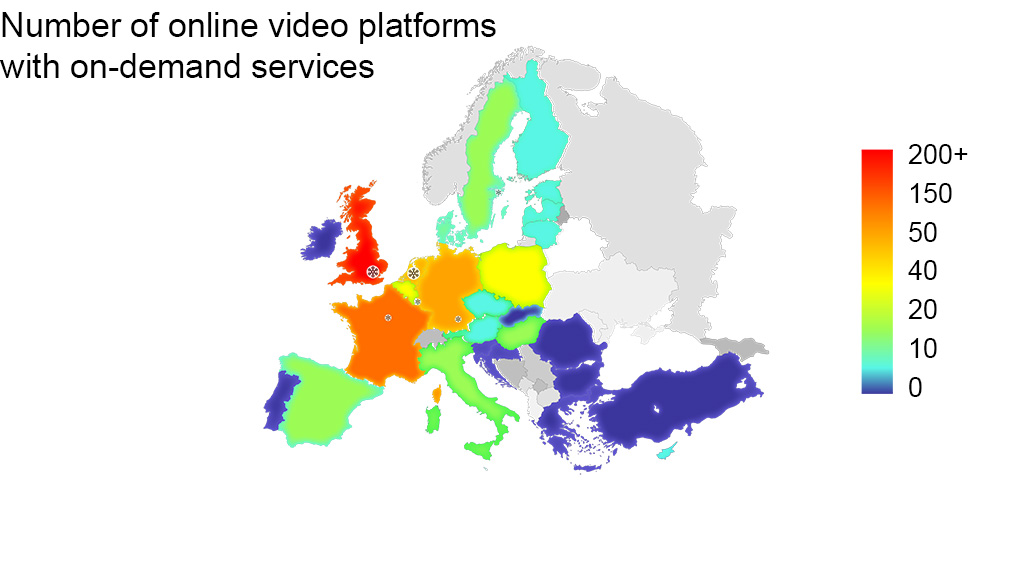 The research, commissioned by TVT Media and conducted by Media Asset Capital, also reveals that the Netherlands is the second major online video export centre, with Luxembourg, France, Sweden and Germany also strongly supporting cross-border services.
Amazon Instant Video and parts of the Sony group both have more than 30 online video-on-demand services based in the United Kingdom, distributed to mainland Europe through a single licensed platform each, counting as just two of the 82 exporting platforms in the United Kingdom. Discovery, MTG, Disney, and Playboy each have over 10 online video services targeting various countries in the European Union but originating from a single platform in the United Kingdom.
Amsterdam is seen as a rival to London as an online video hub. Although the Netherlands is nominally listed as home to 51 online video platforms, with 18 targeting external markets, this figure includes the European base for Netflix, which serves as a hub for 37 separate platforms across the region.
Ireland only boasts a single OTT platform that targets other European territories, but this is the Apple iTunes video service, making the country one of the largest online video exporters in Europe in terms of users reached.
France has the second most OTT platforms, with 115, but just 10 serving other European Union countries, mainly French speaking areas in the Benelux and Alps regions. It also has 11 French/Arabic services targeting former colonies in North Africa.
Only six of the 52 online video platforms in Germany are aimed outside its borders, exporting primarily to German-speaking populations in neighbouring nations, notably Austria.
Ian Brotherston, the chief executive of TVT Media, commented: "The research highlights the fact that Europe's growing number of multi-device, multiscreen, multiservice consumers want more on-demand content, along with new ways to access it and that the industry is responding well to these demands."
"The need to be physically located in a particular country is no longer a fundamental requirement. The internet has released content from geographic constraints and the future is likely to see more broadcasters, studios and other content owners following the model of leading innovators by delivering services via multinational platforms."
The research will be presented by TVT as part of the Media Summits Brexit Briefing launch event in London on 21 November.