Movies Anywhere, led by Disney, is the latest initiative to provide online access in one place to movies from multiple studios purchased through participating retailers. It brings together five major studios and digital retailers: Amazon, Google, Apple and Vudu. Think of it as UltraViolet done better, if a little late.

Movies Anywhere will feature over 7,000 titles at launch from Sony Pictures, Twentieth Century Fox Film, Universal Pictures, Warner Bros, and The Walt Disney Studios, including the Disney, Lucasfilm, Marvel Studios and Pixar brands. Viacom's Paramount Pictures is not currently on board but is reported to be supportive of the concept, as is the smaller Lionsgate.
UltraViolet, a similar initiative that Disney eschewed, aimed for something similar but failed to excite customers. Disney introduced its own service, Disney Movies Anywhere in 2014, with its own KeyChest technology, and has been courting other studios to join.
While sales of physical discs remain in secular decline, the so-called 'download to own' model has been overtaken by the ease and ubiquity of subscription video services.
Movies Anywhere is the latest attempt to address that. Using the free Movies Anywhere app and web site, customers can connect their Movies Anywhere account with participating digital retailers and watch their purchases across multiple devices and platforms. Supported products include Apple and Android devices, Chromecast, Roku and popular browsers, with more to come. Games consoles are not currently supported.
The digital retail partners at launch are Amazon Video, Google Play, Apple iTunes and Vudu, which is owned by Walmart. The service will make available titles from any of the five studios purchased from any of those retailers. It means, for instance, that participating movies purchased on iTunes will be available to download on the Google Play store on a Pixel phone.
Customers can have up to five subaccounts, which can each have personalised recommendations. Purchases may only be made from the master account.
Viewers can start streaming a movie on one device and finish on another. Up to four titles can be streamed on different devices at the same time.
A limited promotional offer will provide up to five titles to customers that connect their account with one or more of the retail partners. Customers can also redeem digital codes found in eligible Blu-ray and DVD disc packages from participating studios to add them to their online account.
"Movies Anywhere is a massive step forward for the consumer digital media experience, bringing the incredible film libraries of five studios together in a virtual one-stop movie-watching shop," said Karin Gilford, the general manager of the service.
"Movies Anywhere means that consumers never have to remember where they purchased a film or which device they can watch it on, because all of their eligible movies will be centralized within their Movies Anywhere library and available across platforms through the Movies Anywhere app and website and also available at their connected digital retailers."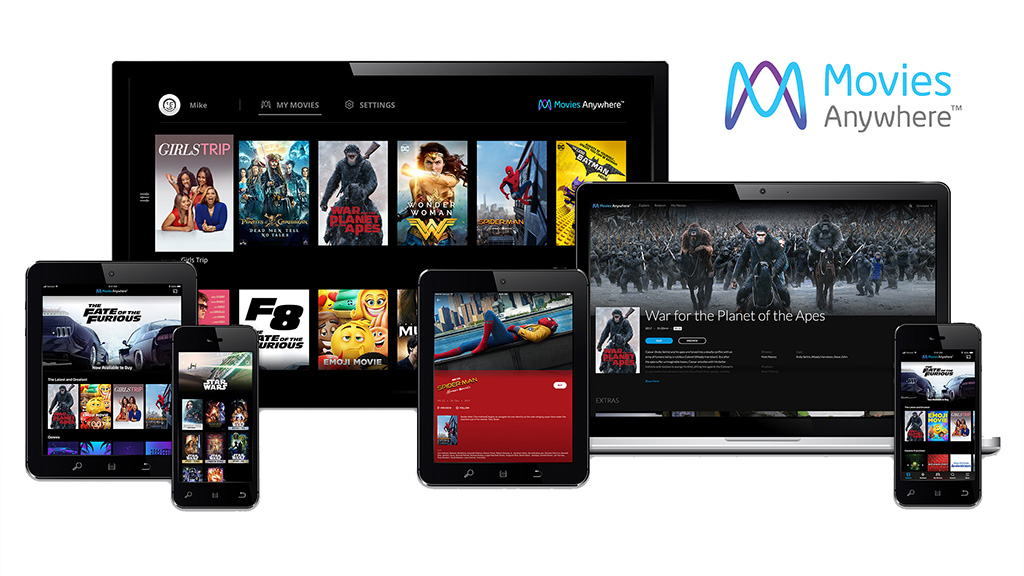 The Movies Anywhere move could be seen as a response to the popularity of services like Netflix and Amazon Prime Video, although it is notable that Amazon is a retail partner.
Disney is already planning to launch its own streaming service and no longer distribute through Netflix.
Some have noticed some similarity between the Movies Anywhere symbol, combining the M and A, with the long-established logo of the Australian Broadcasting Corporation with its Lissajous curve inspired by an oscilloscope display.
The Movies Anywhere initiative is sensible attempt to provide consumers with a seamless service, allowing them the flexibility to purchase the entitlement to view movies from multiple studios through multiple retailers.
We have heard this before, of course, with UltraViolet, which never really took off. With Disney on board, and support from major online retailers, this may be more successful.
Movies Anywhere will initially only be available in the United States. So, not exactly anywhere.