Andrew Neil addressed delegates at the Digital TV Group Summit with a warning about the state of broadcast television in the United Kingdom. He suggested that national broadcasters would struggle to compete with the scale and ambition of global players and there was a risk that much of the business would fall into American ownership.

The journalist and political presenter on the BBC was formerly editor of The Sunday Times and the founding chairman of Sky TV. He was speaking at the annual summit of the Digital TV Group, an industry organisation that promotes standards for digital television in the United Kingdom.
His comments came as a wake up call for British broadcasters but his real concern was over the lack of public debate about the future of broadcasting.
He described a programming arms race, with Netflix and Amazon competing for content and paying for big budget productions. Netflix is now spending $6 billion a year on programming, which is more than most television networks and is three times the production budget of HBO.
He said that this was great for the production sector, with programmes like The Crown having a budget of £100 million, or £5 million an episode, and being launched on the cover of Radio Times, that old bastion of British traditional broadcasting.
"This, I think, is the shape of drama to come," he said. "Huge budgets that I can see creeping up to ten to fifteen million dollars per episode."
He suggested that we are in a "golden age" particularly for drama, with a "cinematic quality" in production values, with depth, light, shade, character development, nuance "almost everything that today's movies don't have".
"They have reinvented the Dickensian novel," he said. "They allow a quality of character development which the cinema finds very hard to challenge in ninety minutes to two hours, which often feels about half an hour too long."
The movie industry is increasingly about franchises, movies for adolescents. "Television has become the medium for grown ups."
"I think it provides a real challenge for British television," he said. "How can our broadcasters afford to compete?" The BBC made The Night Manager in a co-production with AMC but could only afford to make eight episodes, at $3 million each.
The danger of making co-productions with companies like Netflix, he suggested, is that "at some stage these insurgents with the big bucks turn round and have your lunch".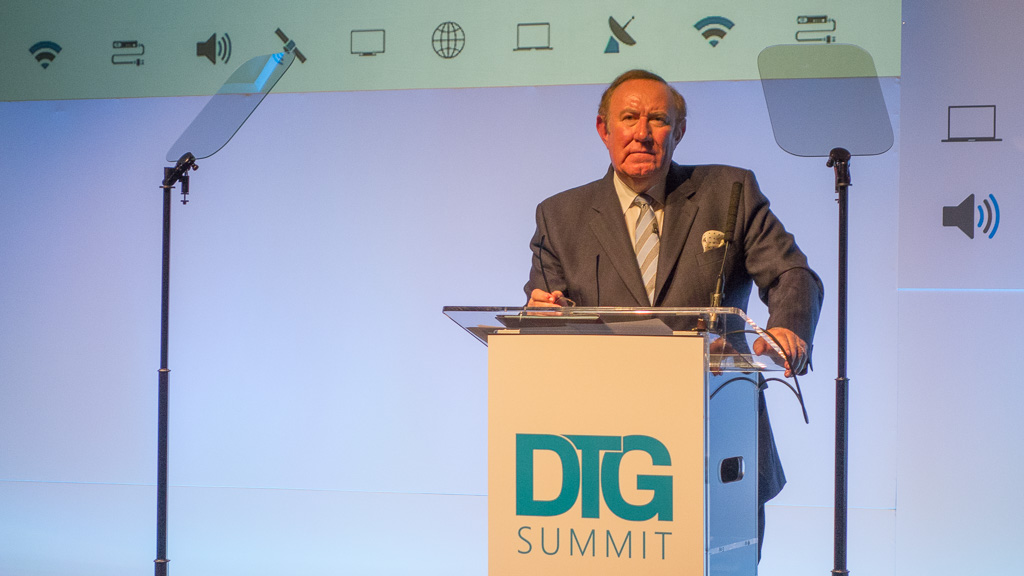 So what is the impact of this on television? At the moment it still complements existing television. However he warned that 'cord-cutting' is accelerating in the United States. While pay television is still growing in the United Kingdom, it is growing more slowly, and getting much above 50% of homes is proving to be a struggle.
"There is a generation coming through that is used to getting much of what it watches and what we call television from non-traditional sources."
Broadcasters like the BBC are seeking to re-invent the iPlayer and make it a destination in its own right, "but it lacks global scale, which all the other insurgents in this area have." It also lacks aggregation across a range of broadcasters, "and the one thing we know is what people value most is aggregation" and not one particular broadcast brand. He was critical of the proliferation of apps. "Viewers don't want to search through apps for what they want to watch".
He described ITV as a "prime takeover target" that is "too small to be a global player". Channel Four is "just a billion pound business" and a "niche player" that is "not equipped to deal with the challenges" of this new world.
Even Sky, which he described as a "brilliantly run company", looks like it is about to be acquired by Fox. "There's a world of difference from being a major British PLC," he said, "and becoming a wholly-owned subsidiary of an American company."
Channel Five and Virgin Media are already American owned, Sky is likely to be American owned, and ITV could well become American owned, he said, "and this is happening without much public debate".
"Broadcasting in this country is at risk from SVOD insurgents at a time when its leadership is in flux and uncertain and the prospect of foreign ownership is widespread."
"We lack the business models to produce the revenues to compete with the global OTT services." He said that is not necessarily true in the United States, where the American networks do have the resources to take them on. "Sky is the one British company that has the scale, resources and technological record to compete but it is going to move from being a PLC to become a subsidiary of a mega US company."
"The BBC is both secured by the licence fee, which gives it a unique position in our broadcasting firmament, but is also hobbled, cribbed and confined in its ability to find other streams of revenue."
"So it's hard to respond, when you haven't got the right business models, when your leadership is in flux, and when the government and politicians in general are largely indifferent," he said. "Does any major political party really have a broadcasting policy or the ideas on how to cope with these kind of challenges?"
While broadcasters have to deal with their own challenges, broadcasting operates in a legislative and regulatory framework. Yet there is no real debate about what the proper regulation or business models will be. "The politicians are largely missing in action."
"If you are in the creative side I think things look great," he said. "But as time goes on, I worry that we don't have the right business models or the right leadership in broadcasting adequately to deal with these challenges."
He suggested the risk the country faced was that it would provide the creative talent but would not control the supply of programming and would therefore not be in charge of its own destiny.