Real progress has been made in measuring television and video audiences across online platforms in the United Kingdom. In the last week of 2016, BARB counted 1.14 billion minutes of online television viewing, across the web, iOS and Android apps. It sounds a lot, but the online audiences for many programmes are still surprisingly low, when measured in traditional television terms.

BARB, the Broadcasters Audience Research Board, was established in 1981 to provide audience measurement for television viewing in the United Kingdom. The BBC, ITV, Channel 4, Channel 5, Sky and the Institute of Practitioners in Advertising jointly own BARB. It commissions research companies Ipsos MORI, Kantar Media and RSMB to collect data that represent the viewing behaviour of 26 million TV households.
BARB uses a panel of 5,100 households, each of which represents about 5,000 households in the United Kingdom. Every television set in the panel homes is fitted with a metering device with a special remote control. Anyone in the home over the age of four is supposed to press a button on the remote control if they enter the room while the television is on and press it again when they leave. Audio fingerprinting and watermarking are used to match the sound to a reference library to determine minute-by-minute viewing figures. In Sky homes channel codes can be collected directly from the set-top box.
It is a necessarily an inexact process, but nonetheless BARB data represents the gold standard on which the broadcasting and advertising industries in the United Kingdom rely for all reporting and trading.
BARB has also started using metadata tags, which are embedded by broadcasters in online television programming, and software meters installed on laptop and desktop computers and tablets.
In addition, device-based data from web servers records the total number of times a programme is watched and the length of each viewing session.
BARB publishes a TV Player Report, currently in beta, which covers viewing on computers, tablets and phones at a device rather than an individual level. It is the first joint-industry, audited measure of viewing to online TV in the UK.
In the last week of 2016, BARB reported a total online live and on-demand streaming time of 1.14 billion minutes, across the web, iOS and Android apps. 70% this was on-demand viewing, and 67% of that was from the BBC iPlayer.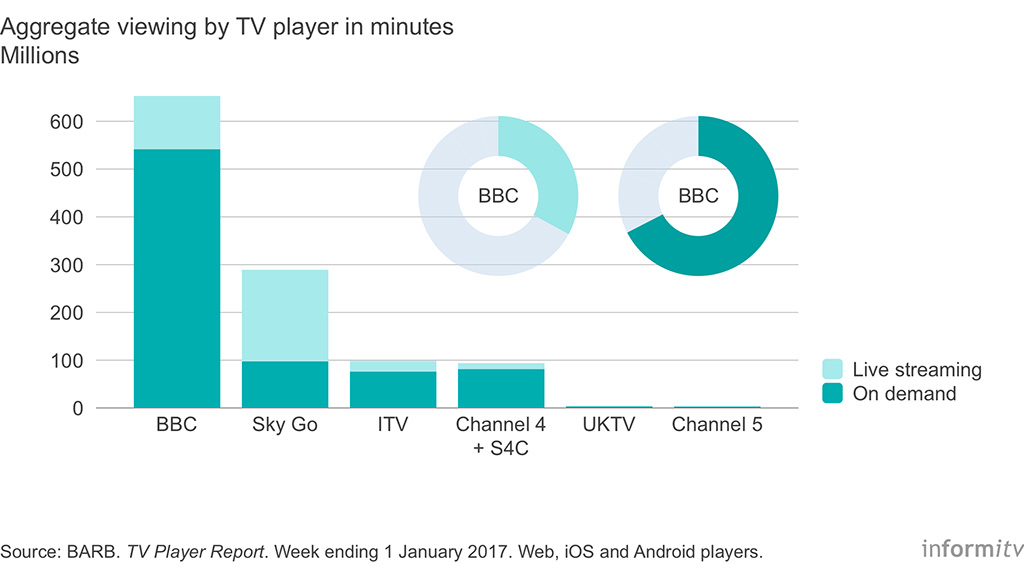 Sky Go was the second most popular service, and that includes viewing channels of other broadcasters within the app. The data do not include on-demand viewing on the Sky platform. The majority of live viewing on Sky Go was to Sky Sports channels.
ITV and Channel 4 come some way behind. Channel 5 and UKTV hardly register on this scale with their own apps, although they have more viewing through Sky Go.
The most popular live streaming programme of the week was the New Year's Eve Fireworks, which had an average of 112,987 streams, which is hardly spectacular, compared to the 10.87 million that watched on BBC One.
The most popular on-demand programme of the week was the BBC situation comedy Outnumbered, with 367,035 average programme streams.
The BBC reports that this episode received a total of 1,246,976 requests, which might suggest that many more were on other connected television and service provider platforms.
However, it should be noted that BARB uses the industry-agreed metric of "average programme streams" to indicate the popularity of a programme. That is the total viewing time of a programme on all devices in the reported period, divided by the full length of the programme. It is analogous to the average audience measure that is typically used to report television audiences.
Justin Sampson, the chief executive of BARB, has written on the challenges of comparing different industry audience metrics.
"How can relative value be determined if one form of television/video is providing measures based on average duration audience, while another says that the benchmark should be the number of times a video has been viewed for just a few seconds?"
He wrote that BARB has the measurement techniques to track other online video services. He notes that his household cannot be the only one in the country to be enjoying The Grand Tour on Amazon, resulting in a rare family appointment to view on a Friday evening.
Apparently, BARB had an enquiry from Amazon about measuring audiences for The Grand Tour, although it came to nothing. "I'll leave you to draw your own conclusions," he wrote.
He observes that BARB needs to ensure that its standards are applied to be reporting and verification.
"We need to be able to report viewing based on average duration audience principles," he continued.
With that in mind, perhaps we can move on from metrics such as those reported by the BBC for iPlayer broadcasters like the BBC report the number of requests received on iPlayer, but not the average or total viewing time, or the average audience for a programme measured over its duration.
The BARB TV Player Report is a welcome move towards this, providing greater transparency and facilitating comparisons between players.
It would certainly be interesting to see how services like Netflix and Amazon compare on this basis.
Meanwhile, it is worth noting that the numbers reported by BARB for online television viewing, albeit only on certain devices, are still far lower than anything that would be considered significant on traditional television channels.
The most popular online programme on ITV Hub, across web, iOS and Android and apps, in the last four weeks of 2016 was Coronation Street, averaging 118,883 streams, while Made in Chelsea with 75,988 streams was the most popular programme on All 4, and The Adele Story headed the programmes on the My5 iOS app, with 2,083 streams, and an episode of The Bill topped the list on the UKTV web site, with 1,150 streams.
It is all too easy to get excited about online video services, but with viewing figures like these there is still along way to go.