BT is reportedly seeking to acquire YouView, the television platform developed in a joint venture with British public service broadcasters and its telco rival TalkTalk. Meanwhile, the broadcast partners are pressing ahead with the Freeview Play platform, adding support for HEVC encoding, Ultra HD and high dynamic range for services delivered over broadband.

BT apparently proposed to buy out the other six YouView partners — the BBC, ITV, Channel 4, Channel 5, Arqiva and TalkTalk — for £20 million. A figure of £60 million is now reportedly being discussed, which is still considerably less than has been invested in the platform.
Originally conceived as an open standard successor to Freeview, Erik Huggers, then director of future media and technology at the BBC, announced Project Canvas in October 2008.
The history of YouView has been characterised by controversy and delays and failed to deliver on the promise of an open standard or a become a successor to Freeview.
Lord Sugar, the star of the BBC programme The Apprentice, was brought in as chairman in 2011 to bring a business focus to the project.
YouView boxes eventually went on sale in July 2012, but by then the project had effectively become part of the pay-television strategies of BT and TalkTalk, which went on to subsidise boxes to boost their broadband position.
The BBC has pumped tens of millions of pounds of licence fee funds into the platform. The outcome of this has been to help establish BT and TalkTalk as pay-television service providers, with 1.62 million and 1.37 million customers respectively.
The main benefit to BT and TalkTalk has been access to not only the channels of the broadcast partners but also to their on-demand catalogues.
Lord Sugar resigned after two years in what was described as a heated exchange in front of astounded executives that ended with the man that originally brought him in to chair the consortium saying "You're fired!"
YouView became the first platform in the United Kingdom to offer Ultra HD, available in a Humax box from BT.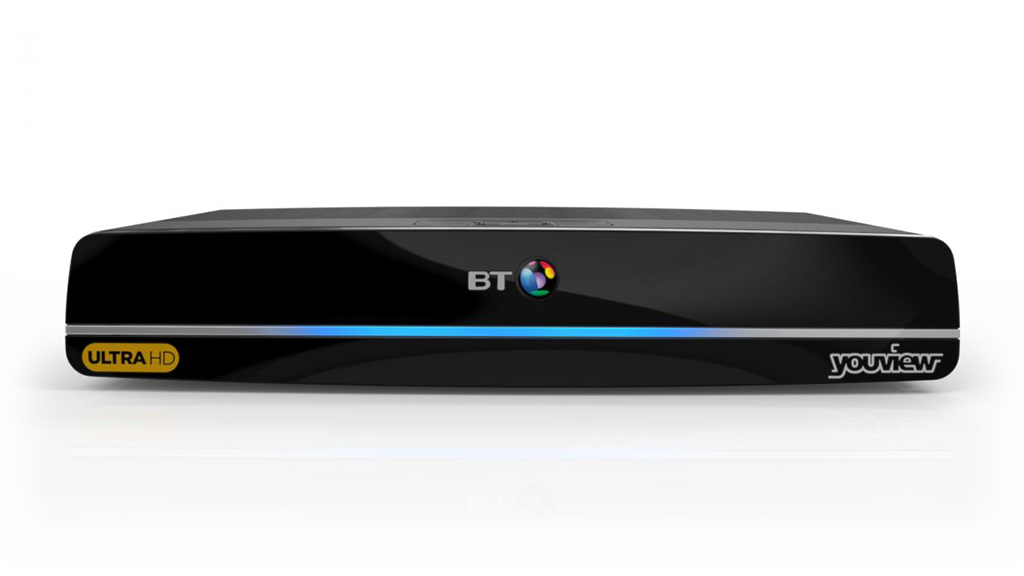 BT is now understood to be seeking control of the platform, as it promotes its own television proposition, backed by a significant investment in sports rights.
The BBC is seeking assurances that its public service interests will be protected. TalkTalk wants to be able to provide YouView boxes under licence, although the strategic incentive for BT to concede this appears unclear. TalkTalk still looks like an acquisition target, with Sky a potential beneficiary.
In March 2014 the broadcasters renewed their backing for YouView, but reportedly cut their contributions to just £750,000 each a year, having spent £45 million the previous year between them, not including the cost to BT and TalkTalk of subsidising the provision of boxes.
Meanwhile, the broadcasters have refocused their efforts on Freeview, in the form of the Freeview Play hybrid platform, based on the HbbTV open standard.
An updated technical specification for Freeview Play sets out new features and requirements for future products.
The requirements include mandatory support for decoding using HEVC compression for programmes delivered over broadband, and optional support for Ultra HD and HDR or high dynamic range programming delivered over broadband.
James Jackson, the technology director at Digital UK, said: "As more manufacturers and content providers join Freeview Play the platform is evolving for the future and embracing new technologies, including HEVC and the potential for Ultra HD via broadband."
Although this will help establish the hardware specifications for new products, there is no word on Ultra HD for terrestrial transmissions.
Freeview Play is currently available in Panasonic, JVC and Finlux TVs, and is being rolled out across a number of LG televisions. Recorders from Panasonic and Humax allow viewers to add Freeview Play to their existing set.
The Freeview Play specification, with the 2017 profile, is published on the Digital UK web site.