The challenge of remaining relevant to young adults was a key theme at the annual Edinburgh International Television Festival, from The Voice to Vice. While tried and tested formats still attract large audiences, Shane Smith, the co-founder of Vice Media, promised a bloodbath of convergence and consolidation from which new players would emerge. It was an uncomfortable message for most media executives, as Brent MacGregor reports from Edinburgh.

There was considerably less industry politics than at previous festivals. Politicians were notably absent, with the new Secretary of State for Culture, Media and Sport not following her two most recent predecessors onto the Festival stage.
Digital technology was literally in your face in the form of virtual reality headsets in the foyer stands set up by the BBC and Sky. In spite of this clear evidence of new technologies, there was no specifically branded digital media strand of events as in previous years.
A little bit of big data was on display in a session on the Hottest Trends in TV Formats which used internationally sourced and aggregated audience data to report on global trends. There were no huge surprises from this thorough and well-presented research, which confirmed what delegates might have already suspected. Tracing the success of The Voice and it variants across territories produced interesting if unsurprising numbers. There may have been some satisfaction in learning that the United Kingdom leads the world in exporting formats but big data failed to impress sceptical television people, with no big idea emerging for the second year running.
In the Winning in Broadcast Means Success in Digital session, delegates were introduced to a vlogger with two channels of his own with no less than 6.3 million viewers, as well as around 2.5 million followers on Twitter and Instagram. Nevertheless Marcus Butler would not be known by many people over the age of forty and walked about at the festival looking more like a bright young researcher than a new media celebrity. Successful YouTubers have been name checked at previous festivals but this was the first time that such a figure had appeared.
There was a clear agreement from the panel that the future for traditional media lays in adapting to world of infinite consumer choice, seeking the 'heads down' generation normally crouched over their smart phone. To do so, you need to work with the digital super stars like Butler who do reach the elusive youth audience, adding an international dimension with half of his audiences being outside the United Kingdom.
Ben Cooper from Radio One admitted that "radio slept walked into the revolution" but was now happy with the way the audience could 'listen, watch and share' with 1.3 million viewers a day consuming the Radio 1 brand visually on iPlayer and YouTube. In his view, radio was "the train that pulled the carriages" but YouTube was the punk rock of this decade, pirate radio reinvented for the digital age.
William Van Rest from ITV noted that the broadcaster currently reaches two-thirds of 16-24 year olds in the United Kingdom, whether as part of the 15 million users of ITV Hub, the 1 million subscribers to the ITV YouTube channel or as broadcast viewers. He pointed out that the largest 16-24 year old audience in the country was still to be found watching Coronation Street. If delegates coming away from the session might have thought that things were okay after all, they would soon be corrected by the keynote speaker for the festival.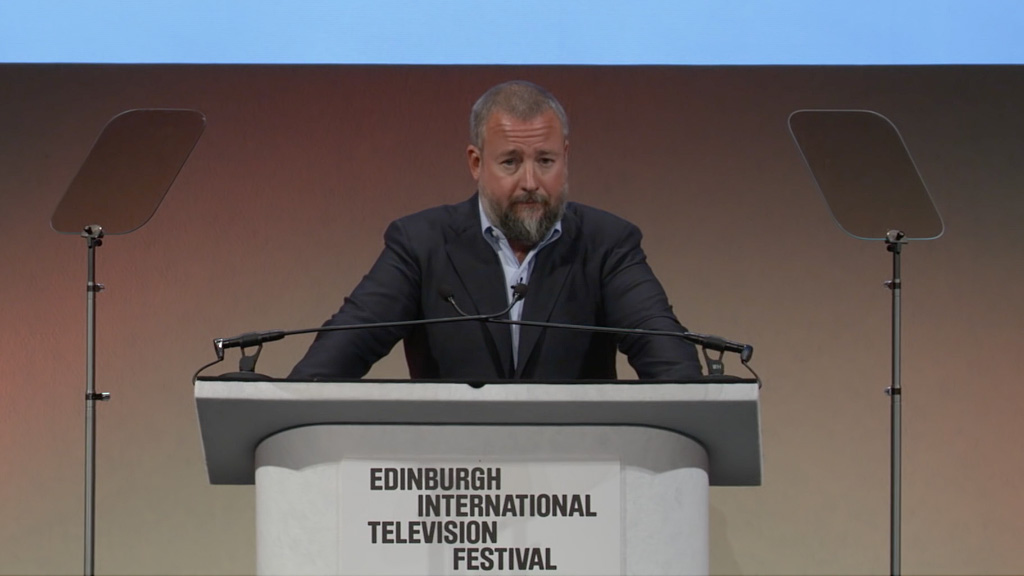 Shane Smith of Vice Media was no doubt picked as a provocateur to present the annual MacTaggart Lecture and he delivered in this regard. Vice was founded as a magazine publisher in Montreal in 1994, moving into digital video in 2006. Vice has a whole stable of services for young adults, including Vice News and the Viceland network, soon to be available on Sky.
The Vice chief executive warned of impending major shifts in both old and new media. The world was going to change and change quickly through corporate consolidation. New media would go the same route as publishing twenty years ago with fewer players emerging. Convergence of old and new media was needed. Rather than go the way of the record industry, media needed to adapt to the fact that millennials are now a bigger group than baby boomers. He said the Vice audience is concerned about music but more importantly about the environment, about inequality and other social issues. Noting that the average age of his own staff was 25, he implored: "Hand it over to the kids".
The MacTaggart lecture and other sessions from the festival are available to view on YouTube.