Sky is making a big push in ultra high definition, with the announcement of the most comprehensive Ultra HD television service in the United Kingdom. The Ultra HD programming available will include 124 live Premier League football games across the season, over 70 movies, 30 hours of natural history and documentary programming and five new dramas, with more to come. It remains to be seen whether any coverage of the Olympic Games will be available in ultra-high-definition.

The number of people that will actually be able to watch in Ultra HD will be relatively modest at first. It was a similar story with the launch of high-definition services, which took many years to become widely adopted. Now, high definition is standard and we can expect more and more ultra-high-definition screens to be available.
Customers will need a Sky Q Silver box and an Ultra HD screen that supports 2160p at 50 frames per second and HDCP 2.2 content protection.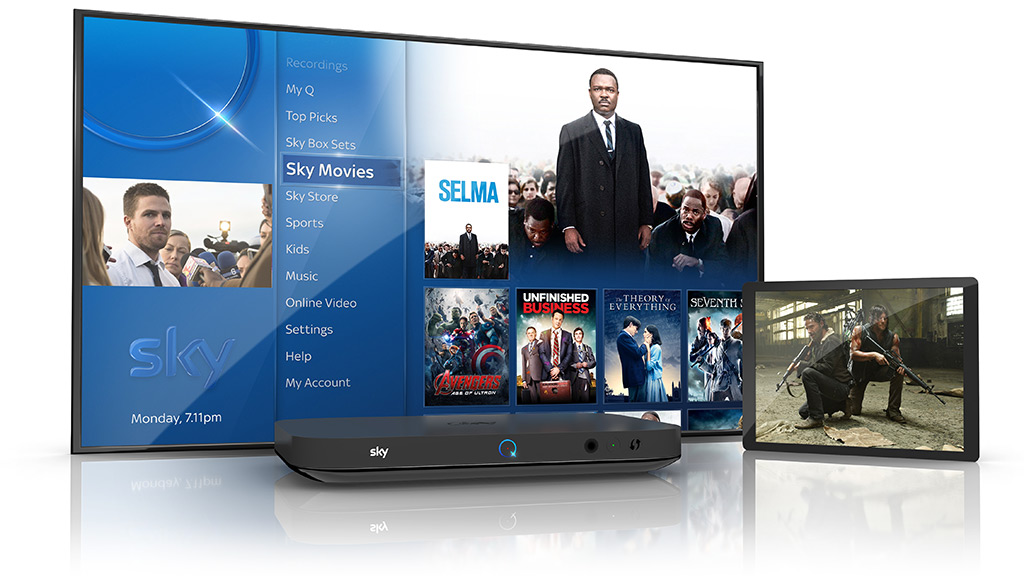 "With Sky Q, we created the world's best TV experience," said Luke Bradley-Jones, the director of television and content products at Sky. "Now with the introduction of an unrivalled line-up of Ultra HD TV, the service is going to get even better, truly enhancing customers' viewing experience."
That said, Sky Q still leaves a lot to be desired, for all the talk about a fluid viewing experience. Despite many improvements on the legacy Sky+ box, even after weeks of familiarisation it remains frustrating. The focus is so much on viewing on demand that choosing and watching programmes on traditional television channels is surprisingly awkward.
Ultra HD programming will be broken out in separate menus. There will not be any Ultra HD channels initially. Live sport will be carried in Ultra HD through additional satellite streams, accessible through an on screen prompt. Users will also be able to watch sports in Ultra HD through the sports red button application. Other Ultra HD programming will be available for download over broadband.
Ultra HD will be available from 13 August, the first day of the new Premier League football season. That is halfway through the Rio 2016 Olympic Games. There is no word from Sky as yet on whether any coverage of the Olympics will be available in Ultra HD. The United Kingdom rights for the Olympics are currently with the BBC, which has yet to announce any plans around Ultra HD.
Yet for anyone wanting to watch television in ultra high definition, Sky is really the only game in town at the moment.
BT was faster off the line with an Ultra HD service, scoring an early public relations win, but has offered only around one live match a week in Ultra HD. However, BT also has a partnership with Netflix, which offers some shots in 4K through BT UHD boxes.
Virgin Media has yet to offer a 4K service, although it is expected to offer its own Ultra HD box later in the year.
Sky has waited until it could offer a comprehensive package, albeit at a premium price. It has rebranded its movie offer as Sky Cinema, emphasising the home cinema experience and employing the same brand across Europe.
Sky is also expected to launch Ultra HD in its other European markets. With annual revenues of over £11 billion it has a combined programming budget of £4.9 billion, service 21 million customers in the United Kingdom, Ireland, Germany, Austria and Italy.
Sky will use Ultra HD to assert its leadership position in pay television, despite intense competition. It benefits the brand and gives people a reason to stay with Sky. As with its other product launches, Sky is there for the long game.
Although Sky does not break out its television subscriber numbers and has not disclosed any figures for Sky Q, it has 12.35 million customers in the United Kingdom and Ireland. In comparison, Virgin Media has 3.72 million, while BT TV has 1.46 million and TalkTalk has 1.39 million, according to the informitv Multiscreen Index.