The government is planning to plug the so-called iPlayer 'loophole' so that people using the BBC iPlayer to watch programmes after transmission will need a television licence. Over a decade ago, informitv questioned whether this was a problem. TV Licensing, which collects the licence fee on behalf of the BBC, was adamant at the time that there was no "legal loophole" or "grey area". Now it seems there is a problem, but the proposed solution has profound implications.

John Whittingdale, the culture secretary, confirmed at the Oxford Media Convention his intention to introduce legislation "as soon as practicable" to cover catch-up viewing.
He said: "while the definition of television in the legislation covers live streaming, it does not require viewers to have a licence if they watch BBC programmes through the iPlayer even if it is just a few minutes after transmission."
"Having discussed this with the BBC and the BBC Trust, I will be bringing forward, as soon as practicable, secondary legislation which will extend the current TV licensing regime, not only to cover those watching the BBC live but also those watching the BBC on catch-up through the iPlayer."
The deal was struck with the BBC when it agreed to cover the cost of television licences for those aged over 75. The BBC claims it is losing £150 million a year in revenue as a result of less people paying for a television licence.
A BBC representative said: "We are happy to have reached an agreement with the Secretary of State on how to close the iPlayer loophole. Its swift closure will help give the BBC funding certainty."
After long denying there was an issue, the BBC has become all too keen to extend the television licence to online programming. Yet this could be a case of be careful of what you wish for.
The issue was first identified by informitv back in February 2005. TV Licensing, which collects the television licence for the BBC, told informitv that viewing a programme at the same time as it is being broadcast required a television licence. It remained silent on whether a television was required for programmes viewed on demand.
In a statement to informitv at the time, TV Licensing insisted there was no "legal loophole" or "grey area". It was unable to say whether anyone had ever been successfully prosecuted for watching a programme on a computer without a television licence.
That was before the BBC announced its iMP or integrated Media Player, which began as a pilot in October 2005. This became the BBC iPlayer, which was officially launched on Christmas Day 2007. Initially it only offered radio and television programmes broadcast in the previous seven days. Live television channels were added later.
In 2015, the BBC iPlayer received a total of 2.87 billion requests for television programmes, around 45% of them from handheld devices. In December 2015 the average number of unique browsers per week reached 18.1 million.
The BBC recently ceased transmissions of BBC Three, making it an online only service, accessible through the BBC iPlayer.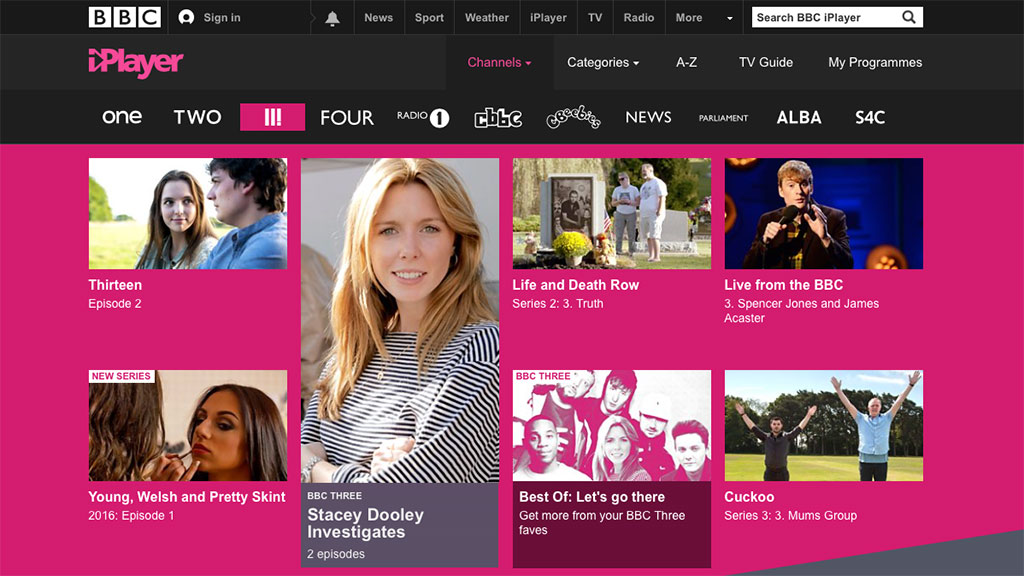 Last year TV Licensing raised £3.73 billion from 25.50 million television licences, up £13 million on the previous year. It costs over £100 million a year to collect the television licence.
It is far from clear how usage of the BBC iPlayer is affecting the number of television licences. There were more television licences in the United Kingdom in 2014-2015 than in the preceding four years. In 2010-2011 there were 25.10 million television licences.
According to BARB, there are 26.5 million television homes in the United Kingdom, covering 59 million individuals. The total population is around 64.6 million.
TV Licensing says 94-95% of homes and businesses are correctly licensed but that evasion represents between £195 million and £235 million a year in lost revenue.
It seems unlikely that a million more people will pay £145.50 a year for a television licence simply in order to access the BBC iPlayer.
There remains the issue of how this will be implemented or imposed. The BBC conceded: "We are yet to work through the details of how we will enforce the proposed changes to iPlayer access. There are a number of complex factors to consider."
Universal access to BBC services, on television, radio and online, is fundamental to its raison d'être. The point at which users have to enter a password to access BBC programming is the start of a very slippery slope.
Is it really practical to require users to sign in with an account associated to their television licence? Clearly there are privacy implications and scope for abuse.
The alternative is to continue to rely on the threat of prosecution. Last year TV Licensing knocked on 3.9 million doors to check whether they had a television licence. Will the BBC start using internet address records to enforce television licence collection?
Extending an anachronistic television licence to viewing on demand does not really address the question of the long-term funding of the BBC. It does open the door to a subscription model, which the BBC has always resisted.