It is fourteen years since we were involved in launching the BAFTA award winning Wimbledon interactive television service at the BBC. The service was considered groundbreaking at the time and remains popular with viewers. At the Swedish Open this year Ericsson demonstrated an interactive app that allows viewers around the world to watch not only the live television broadcast but also to switch between all the courtside cameras.

With online services and apps it is now arguably easier and more cost-effective to deliver an interactive television experience.
There are certainly benefits in being able to access realtime scores, stats and data. The interactive virtual stadium provides intuitive navigation that adds to the user experience and provides integrated opportunities for branding and sponsorship.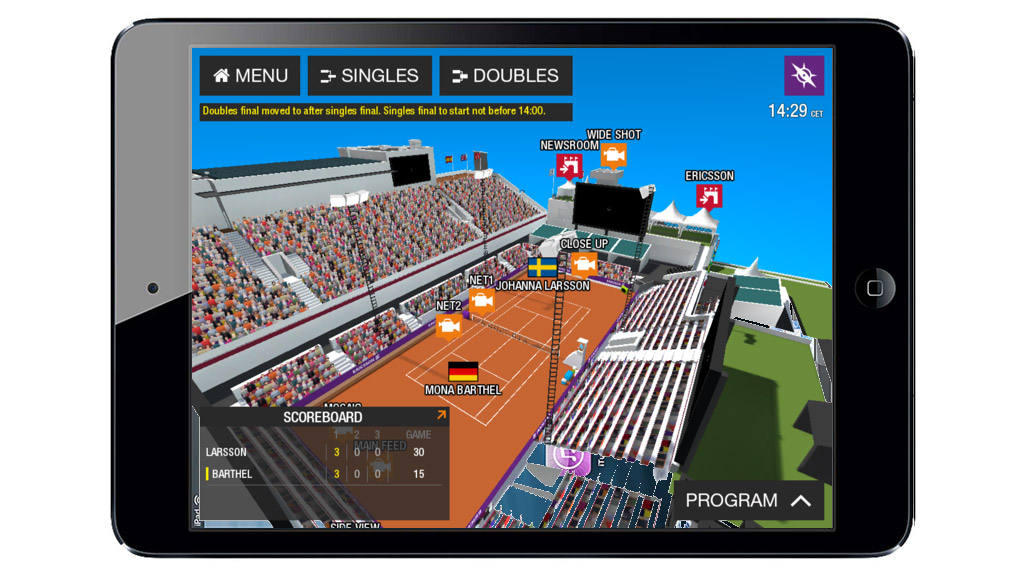 The real advantages of being able to choose your own camera angle are still not clear. This is often promoted as a possible application for enhanced sports coverage. In practice the role of the director in choosing the best shots quickly becomes evident.
Another issue in using the app at the event is that the inherent delay in the coverage means that it might be whole point behind the action on the court. This remains an issue for anyone contemplating applications for stadium audiences.
The utility is more apparent for those watching remotely. Here the various features can combine to produce a more interactive immersive experience that extends beyond a single broadcast channel.
The iOS and Android apps were apparently developed by Swedish company Tension in a couple of months, based on the Ericsson Networked Event platform. This is designed to enable the creation of digital experiences to complement events and enable them to be seen by a wider audience.
The Collector Swedish Open app is available for iOS and Android through the app stores.