Vodafone is in discussions with Liberty Global about a possible exchange of assets, although it says it is not currently considering a combination of the two companies. One potential scenario could involve Vodafone acquiring Virgin Media, possibly as part of a longer-term strategy. The chairman of Liberty Global is still looking for a merger.

Vodafone has annual revenues of £42.23 billion, with an operating profit of £1.97 billion. The majority of its revenue comes from Europe and most of that comes from mobile, although fixed line services are increasingly significant, generating a quarter of service revenue in Europe. Although listed in London, only 15% of group revenue comes from the United Kingdom.
Vodafone has 122.11 million mobile customers in Europe, and 323.72 million in Africa, the Middle East and Asia Pacific.
Vodafone sold its 45% stake in Verizon Wireless for $130 billion in September 2013 and went on to acquire Kabel Deutschland in Germany in October 2013 and Ono in Spain in July 2014. In its core European markets Vodafone is being positioned as an integrated provider of fixed and mobile communications. It now has 11.28 million fixed broadband customers in Europe.
According to the informitv Multiscreen Index, Vodafone has 2.37 million digital television customers in Europe, of which 1.42 million are with Kabel Deutschland, which claims a total of 7.12 million basic cable subscribers. Vodafone is also planning to launch a broadband and television service in the United Kingdom.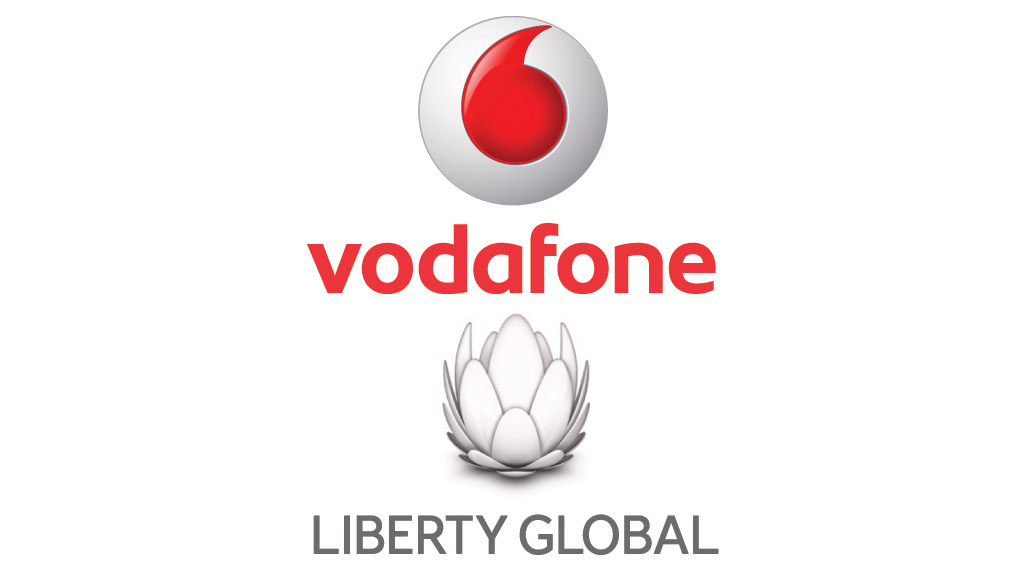 Vodafone is headed by Vittorio Colao. His strategic challenge is how to develop the business in the United Kingdom. Virgin Media could provide the solution.
John Malone, who leads Liberty Global from Colorado in the United States, is known as the 'cable cowboy'. He amassed his fortune in cable television to become the largest individual landowner in the United States with an estimated net work of $8.6 billion. He also chairs Liberty Media, and is behind the bold plan for Charter Communications to acquire Time Warner Cable and Bright House Networks in the United States.
He recently expressed his enthusiasm for a deal with Vodafone, which he described as "a big banana in the jar". The question is, he said, "how do you get your hand of the jar with the banana?" The answer might be to slice the banana first.
Liberty Global has annual revenues of $18.06 billion. It has 12.51 million digital television customers, mainly in Europe. Of these 4.07 million are with Virgin Media in the United Kingdom and Ireland, which Liberty acquired in 2013 for £15 billion. A further 1.69 million are with Telenet in Belgium and 1.39 million with Unitymedia Kabel in Germany.
Virgin Media has more broadband, telephony and digital television customers than other operations in the Liberty Global group but has struggled to gain more subscribers. It ended 2014 with only 100,000 more television customers than it had five years previously. It only more in the first quarter of 2015 by adding in those of UPC Ireland.
Virgin Media currently has a relationship with TiVo to provide its set-top box and multiscreen experience. In other territories Liberty Global is deploying its own Horizon platform, developed in conjunction with Cisco.
A potential deal could involve Vodafone acquiring Virgin Media and possibly UPC Ireland. Among the considerations are the huge historic losses that Liberty has acquired in Britain, which could be used to offset future taxes.
Conceivably Vodafone could trade its recent Kabel Deutschland or Ono acquisitions as part of a deal, or possibly create a joint venture to market mobile alongside cable services in Europe.
Virgin Media faces increasing competition from BT, which is planning to acquire EE, the joint venture of Deutsche Telekom and Orange to move back into the mobile business, subject to regulatory approval.
Virgin Media currently provides a virtual mobile network operation using EE infrastructure, with just over 3 million subscribers, having lost 45,700 in the fist quarter of 2015. In comparison, Vodafone has 18.41 million mobile customers in the United Kingdom and a further 2.01 million in Ireland. Its 4G network covers 63% of the United Kingdom and has over 3 million 4G customers.
Sky is meanwhile planning to launch its own mobile virtual network in conjunction with Telefónica, which is hoping to sell its UK operation to Three.
The acquisition of Virgin Media would make sense for the Vodafone board, which may now be regretting allowing Liberty Global acquire it back in 2013. It would give Vodafone a strong quadplay proposition of fixed and mobile broadband, telephony and television services in the United Kingdom, with potential for growth beyond the existing cable footprint.
Meanwhile, Liberty Global can continue to consolidate its cable operations across continental Europe.
That does not preclude the possibility of other partnerships to promote fixed and mobile communications convergence. In the longer term a merger remains an option. Even John Malone might not be able to swallow the whole banana of Vodafone, but a slice of an enlarged fixed and mobile business may remain appealing.
Vodafone has not commented further on their discussions with Liberty Global, beyond a brief statement that "There is no certainty that any transaction will be agreed, nor is there certainty with respect to which assets will ultimately be involved." It added "Vodafone is not in discussions with Liberty Global concerning a combination of the two companies."