Sales of 4K televisions are forecast to grow rapidly from 2015, with over a 100 million shipments forecast in 2018, representing over a third of the total television market. Driven by the desperation of display manufacturers to differentiate their products as much as by consumer demand, these screens exceed the current capabilities of most broadcasters.

Futuresource Consulting estimates that 11.6 million 4K sets will have shipped in 2014 and forecasts that demand will rise at a compound annual growth rate of 72% until 2018.
"4K adoption is forecast to grow quickly from 2015 onwards with over 100 million shipments projected in 2018, representing 38% of the total TV market, said David Tett of Futuresource Consulting.
Sales of 4K televisions are expected to be concentrated on larger screen sizes, generally above 50-inch diagonal, but 4K screens below 40 inches will become more widely available.
"The migration to larger screens is expected to continue," he said, "partly aided by 4K, as the benefits of the higher resolution are easier to see in the larger screen sizes."
"There is some concern amongst the content community that owners of such sets will be disappointed when they do eventually receive a regular native 4K source, perhaps unable to perceive the improvement that they had hoped for versus 1080p."
With native 4K or ultra-high-definition video in short supply, consumers may be buying sets to upscale existing high-definition programming, in preparation for when more material is more widely available.
Persuading consumers of the potential benefits of ultra-high-definition presents a challenge for traditional media. LG has produced a promotion that suggests its screens are so lifelike they can confuse cats and dogs. It also seems to have fooled most viewers, judging by their comments.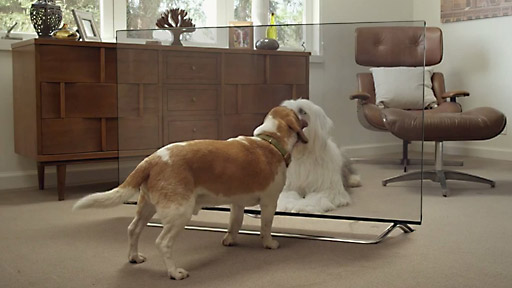 The reality is that consumers are equally confused by the technology and terminology but are attracted by the prospect of bigger and better screens.
Netflix, Amazon, DIRECTV, Comcast and Sony are among those offering a limited selection of 4K media online. Although there are already some test and demonstration channels, pay-television providers are expected to launch services over the next year or so.
The International CES in Las Vegas in January will no doubt be awash with 4K screens and exotic new technologies like quantum dot displays.
4K televisions are rapidly becoming more affordable but the current generation of sets will soon be superseded and the cost is likely to fall significantly as they enter volume production.
Meanwhile, smart televisions are already commonplace. Jack Wetherill of Futuresource Consulting notes that sales of smart televisions account for half the market, expected to rise to over 80% of sales by 2018, as smart features remain an important factor to many consumers.
"Although the industry spotlight is focused upon UHD and curved screens, smart TV continues to permeate the market as a value added feature, and UI refinements like voice and gesture recognition, tile-driven navigation and device mirroring have substantial consumer appeal at point of sale as part of a premium set proposition," he said.
While televisions are becoming sharper and smarter, broadcasters are struggling to keep up and risk being left behind. In many cases their pictures are poorer than even current televisions are capable of reproducing.
Historically, broadcasters have set standards ahead of consumer adoption but domestic technology is now advancing beyond the capabilities of many broadcasters.