Snap, a new online video service from Sky Deutschland, offers movies and television series on demand. It is available for a monthly fee to Sky customers, in addition to the Sky Go service, as well as to those without a Sky subscription. It is launching just in time for Christmas, with a free trial until the end of the year, extended until the end of January for Sky subscribers.
Snap will be accessible on demand via the web, iPad or Samsung smart televisions, with other devices to follow, including the iPhone. Users with an iPad will be able to download programmes for offline viewing, or send them to a television through Airplay and an Apple TV device. An exclusive partnership with Samsung will make Snap available via an app on their smart televisions, with the Galaxy range of phone and tablet products to follow.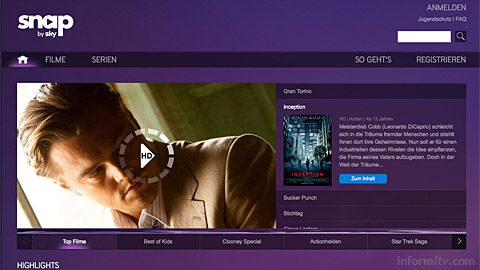 Snap will have access to a comprehensive catalogue of HBO programming, movies from major studios, and children's programming. It promises to add at least one new movie every day. Customers can choose whether to watch titles in German or the original language. There will be editorially recommended playlists and specials, and a watch list to allow titles to be bookmarked for later viewing, which will be synchronised across all devices.
The service will be free to anyone that registers until the end of the respective month. After that it will be €9.90 a month with only a monthly commitment, or €4.90 a month for Sky customers.
"Sky pioneered the concept of a content rich, live and on demand entertainment service with Sky Go, and as a result today Sky is the largest OTT pay-TV service in Germany and Austria," said Brian Sullivan, the chief executive of Sky Deutschland and a former executive at Sky in the United Kingdom. "Snap will bring Sky's extensive editorial experience, outstanding programming quality and comprehensive partnerships with the world's leading providers — such as HBO, Warner, Fox, Paramount and Disney — to a whole new audience."
Snap will compete with services like LoveFilm and Watch Ever, both of which currently offer support for more viewing devices, although Sky has a strong hold on the latest movie releases. Snap is also a pre-emptive strike against international expansion by Netflix.
Snap is similar in some ways to Now TV from Sky in the United Kingdom. That launched initially with movies and entertainment programmes, adding access to premium sports. With the chief executive of Sky Deutschland offering "more to come in 2014" the addition of premium sport including Bundesliga football coverage could be on the cards if the company follows the playbook of its British counterpart.
In the United Kingdom Sky also offers a branded Roku box for Now TV for only £9.99, including postage and packing. Something similar could be planned for the German market. News Corp and Sky both made a strategic investment in Roku.
Sky Deutschland is the leading pay TV company in Germany and Austria with over 3.5 million direct subscribers. With 41.7 million television households in Germany and Austria, pay-television penetration is relatively low at 18.6%.