The Google TV brand may be quietly dropped as the focus moves to the Android platform on which it is based. There are suggestions that it may simply become Android TV. Given the success of Android for smartphones and tablets, it could become the generic operating system for television products, as part of a wider ecosystem that already supports a billion devices.
Google TV was originally launched in October 2010, based on the open source Linux-based Android operating system that Google maintains and the Google Chrome browser, with Sony as one of the initial partners.
While Google TV may not have been a success, Android has become broadly adopted across smart phones and tablets, forming an alternative ecosystem to Apple iOS and becoming a widely recognised name. Google announced that as of September 2013 more than a billion Android devices had been activated.
The plug-in Chromecast device that Google launched has been more favourably received, no doubt partly down to its $35 price point, making it one of the best selling electronics products on Amazon.com.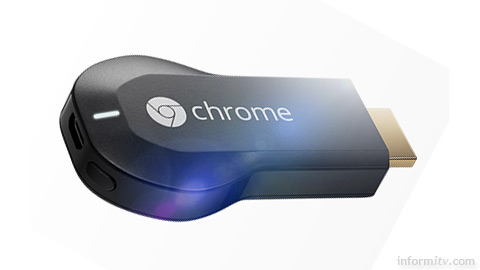 Google initially said Chromecast was based on a simplified version of its Chrome OS, but some have suggested that it owes more to Android and Google TV. Chromecast plugs into the HDMI port on any television and is designed to work in concert with Android smartphones and tablets.
Sony recently introduced its own Bravia TV stick, which is essentially Google TV on a stick, but only referred to support for Google services like search and apps from the Google Play store.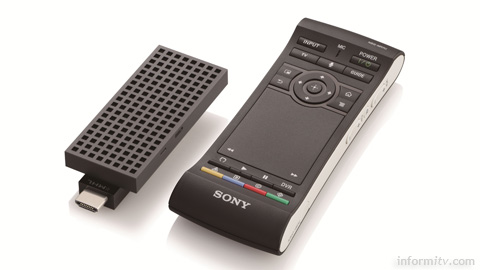 The module plugs into the back of the Sony 2013 range of televisions through the MHL port. MHL stands for Mobile High-Definition Link, developed by the MHL Consortium comprising Nokia, Samsung, Silicon Image, Sony and Toshiba to connect mobile phones and portable devices to high definition televisions.
Google has been updating the Google TV platform make it easier to update to the latest versions of Android and Chrome, so that developers can use the latest application programming interfaces. The latest version of Android, KitKat, is due for release and could form the basis for future television devices.
Android is already used in some set-top boxes, digital media adapters and dongle devices. If it becomes more widely adopted by major manufacturers, Android could establish a strong presence in the television space, as part of an open ecosystem of broadly compatible devices and hundreds of thousands of apps.