The 'Out of the Box' TV Challenge produced a number of novel prototypes in the course of a weekend workshop to create concepts to change the way we view television. Teams from Manchester Metropolitan University and BT were among the winners of the competition, recognised by industry judges including representatives from the BBC, Channel 4, Sky and Google.
The TV Challenge was organised by the TV Triangle, an industry networking and education initiative that aims to promote co-operation and innovation around television. The event was hosted by iBurbia Studios in West London, which provided facilities, in conjunction with Club Workspace, Showcaster and informitv. It was intended to allow anyone, from home hobbyists and small companies, to teams within the television, creative and technology industries, to get involved.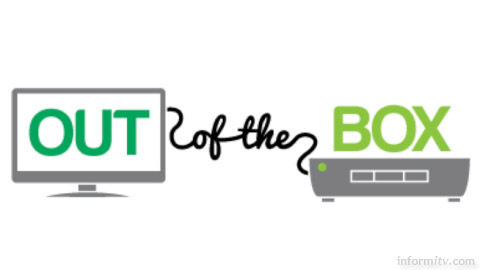 There were over 50 participants in the 'Out of the Box' TV Challenge, ranging from individual developers and students, many of whom had never previously worked on television applications, through to a team of engineers from BT. While some arrived in groups, many of the teams were formed at the event.
Nigel Walley of Decipher provided informal seminars on the current state of the typical television household, demonstrated using the range of satellite, cable, terrestrial and broadband services accessible at iBurbia Studios.
The brief was to develop exciting and innovative concepts that will change the way we view television or challenge the conventional conception of the television viewing experience.
With less than 48 hours to come up with a proof of concept presentation, many participants worked day and night at iBurbia Studios, where they had access to an impressive array of television and video devices and displays on which to test their ideas.
Google provided Sony Google TV boxes to allow Android developers to create prototype apps, but contestants were free to present their ideas in any way they wished. One team created a 3D computer generated image of their proposed product. Another team came to produce a documentary about the event itself.
After a weekend of coding, creating and crafting presentations, the participants had just ten minutes to present their ideas to their peers and the panel of industry experts, chaired by William Cooper of informitv.
Representatives of major broadcasters were among the judges. Providing their expertise were Marina Kalkanis from BBC Future Media, and Gareth Capon, responsible for product development at Sky, together with Anna Cronin, the commissioning editor for convergent formats at Channel 4. They were joined by Bill Scott from Easel TV, Stacey Anklam from Wolverine Consulting, and Matt Gaunt from Google.
There were 11 pitches in total and they provided many different perspectives on the challenges and opportunities, but they all involved some combination of television and internet technologies.
For an event championing the convergence of television and the internet, the biggest practical problem seemed to be getting computers and mobile devices to connect to the television displays.
The judging criteria were based on how well the concept meets a real requirement, its level of originality or innovation, and how much it will influence how television is viewed.
The hardware award for best use of a new, adapted or existing device, display or product went to Con-axis, a team of students from Manchester Metropolitan University. They came up with a concept for multiroom delivery of free-to-air television within the home, using powerline distribution over mains wiring, in response to their own problems of receiving television where they lived. This perhaps had the clearest commercial potential as a consumer product.
The award for the best use of a software application or environment was shared by two projects, both of which happened to use the Google TV platform. OnnecTVty demonstrated sharing links to what people were watching on different devices, while Frameworks showed interaction from a handheld device to control images overlaid on the television picture. Google TV does not officially support this, presumably in response to concerns about what might be superimposed on screen. In this case, it allowed the user to throw pies at the screen or draw moustaches on people.
The design award for the best concept, product, service or user experience was also split across two teams: Visually Smart and I watched, We watched. The former was aimed at providing accessibility for second screen applications, using voice recognition and text to speech, which although now widely supported by smartphones and tablets have yet to be successfully incorporated into the second screen television viewing context. The latter involved discovering shared viewing experiences among friends and colleagues using a social graph database. Notably, this was about discovering areas of common interest, rather than simply offering recommendations of what to watch.
The award for the best pitch, presentation, performance or demonstration went to Omni, a team of engineers from BT, thanks to an excellent explanation by an analyst who joined the team during the weekend. Their concept involved modifying a BT Home hub wireless router to provide secure notification within the home of what people are watching on a connected television, facilitating various messaging functions, while a further application providing information about network traffic within the customer premises.
The judges made a special award for the best response to the specific brief for a team called ESP playlist. They presented a concept for collating, curating and communicating playlists across multiple online video services, for private, group or public use. This aims to address the problem that while such features may be offered by some online video applications, it is still difficult to manage such collections across multiple services.
The winning teams went away with a wheelbarrow full of prizes, generously provided by Freeview, Freesat, Humax and Google. It may seem somewhat ironic that set-top boxes were presented as prizes for this 'Out of the Box' TV Challenge, but for many the network connected digital video recorder still represents the most significant advance in the television viewing environment.
The biggest reward for some was probably the exposure to other ideas and recognition by the industry judges. After an exhausting weekend there was a buzz of excitement around the possibilities of connecting television and the internet which is often missing at the conferences and tradeshows that are more concerned with business models and end-to-end solutions.
What was so impressive is that within 48 hours a number of teams had produced practical protoypes that addressed some of the things that are still clearly issues for the users and viewers of television.
If anything, the TV Challenge revealed that there are still some fundamental problems that need to be addressed to enable the sort of experiences that people increasingly expect of television and video. However, it also showed that it is increasingly easy for people to get involved in this area of television and demonstrate new thinking, out of the box.
The 'Out of the Box' TV Challenge was organised by TV Triangle and made possible by iBurbia Studios, Showcaster, Club Workspace and informitv, with generous support from Freeview, Freesat, Humax and Google.